Incident of 'burning teenager to death' sparks public outrage in Bangladesh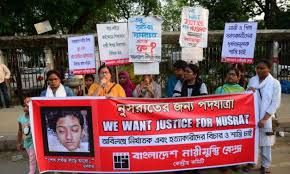 Dhaka, May 29 (HS):Nusrat Jahan Rafi,a 18 years teenage girl has been burned to death for reporting that her headteacher sexually harassed her.Nusrat Jahan was 18 when her killers poured kerosene over her and set her on fire on the roof of her school after she refused to withdraw a sexual harassment complaint against the head teacher.
She died in hospital five days later, sparking public outrage and mass demonstrations calling for her killers to face punishment.
Prime Minister Sheikh Hasina met Jahan's family to assure them the killers would not be spared.
Bangladesh police filed charges against 16 people, including the headteacher of an Islamic seminary, after a 18-year-old girl was burned to death.The killing of Nusrat Jahan Rafi last month sparked protests across the South Asian nation, with the prime minister promising to prosecute all those involved.Bangladeshi women hold banners and photographs of schoolgirl Nusrat Jahan Rafi at a protest in Dhaka.
Thousands of people gathered for her funeral .The death has triggered protests – with thousands taking to social media to voice their anger about the wider treatment of sexual assault victims in Bangladesh.Police have since arrested 15 people – seven of whom are allegedly involved in the murder.