Inauguration of Kaleswaram Project on June 21 by KCR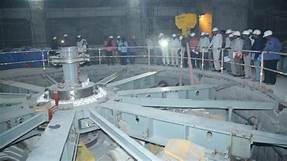 Telangana: Hyderabad: June 13 (HS) Telangana State Transco/Genco CMD Sri D Prabhakar Rao has announced that all the arrangements pertaining to lift water at the Kaleswaram project are ready.  Telangana Chief Minister K Chandrashekhar Rao has decided to inaugurate the Kaleswaram Project on June 21.
He said that it was estimated that 4,992.47 MW of power is required to lift 2 TMC of water. Since, some works are going on at reservoirs and Lifts, there will be demand for 4,700 MW of power this year. Arrangements were made to meet this demand. Since it is decided to lift 3 TMC of water from the next year, there is a demand for an additional 2160 MWs. Arrangements are being made now for this.
He said efforts are on to supply 7152 MWs of power required for the entire Kaleswaram Project. He said electricity network was set up at a cost of Rs 2, 890 Crore for Kaleswaram project. In total 15 dedicated Sub Stations were constructed; 80 pumps were fixed at various categories. Earlier, in the Telangana state, 30 MW pump sets were used. But the electricity organisations in the state have geared up to pump water at 618 MT's height above main sea level, there by supplying water to the arid patches in the Telangana State. In the herculean task to supply water to the Telangana farmers, electricity organisations in the state have to play a key role.
The electricity employees, officials and workers should work to their optimal level to make the project a grand success. He said CM KCR had undertaken the ultimate task of supplying water to one crore acres of farmland in the State. It is the responsibility of the Electricity employees to ensure that water is being lifted from the projects. With the same spirit with which the power network was put in place, lifts should also be operational without any problem or obstacles. "We should make KCR reach his target and we should pay back to the farmers," Sri Prabhakar Rao said.