House of ex-MP, Atiq Ahmed's brother demolished under 'Operation Mafia'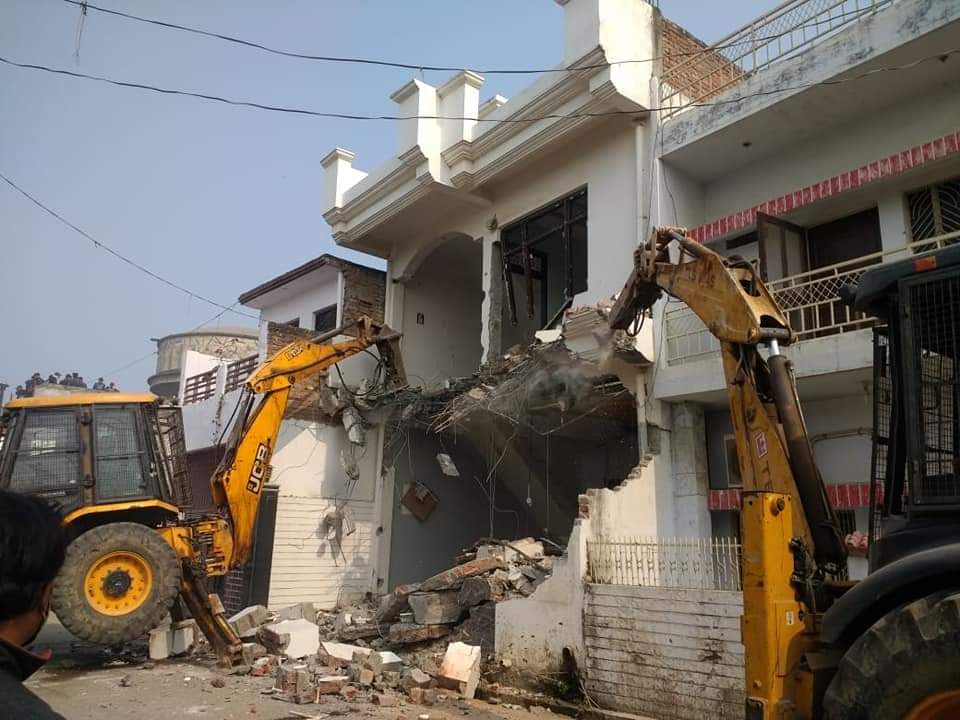 PRAYAGRAJ, January 13 (HS): Continuing the crackdown against illegal properties owned by ex-MP Atiq Ahmed and his close associates under 'Operation Mafia', a joint team of Prayagraj Development Authority (PDA), district administration and police razed the house of Rashid 'Neelu', the cousin bother of ex-MP Atiq Ahmed in Chakiya locality under Dhoomanganj police station on Wednesday. He figures among the list of top ten land mafia of the district and closely associated with Atiq Ahmed land and property deals. His family members pleaded before the officials and posed stiff resistance but heavy deployment of police forced them to retract and vacate the house.
Zonal Officer, PDA, Shat Shukla and officer on special duty (enforcement) Alok Pandey said, "Map of the residence has not been sanctioned and constructed without approval from authorities, which had been razed today. The crackdown against the properties accumulated through illegal means by gangsters and history-sheeters, including Atiq Ahmad, is continuing. We are taking concrete steps of seizure, demolition and attachment of such properties. PDA has so far demolished properties worth Rs. 1500 crore owned by Atiq Ahmed and his gang members."
"The action against land mafias, hardened criminals and gangsters will go on against all the men on radar to check organized crime, said a senior cop. "We want to break the financial backbone of these criminals. Though they are in jail, they are running their empires from inside. Thus, all sources of ill-gotten wealth, as well as property that it has been channeled into, are being targeted," said a district administration official while speaking to HS.
BJP MLA from City North Harsh Bajpai said, "The UP government is trying to break the politician-criminal combine in a state where criminals use their clout to get elected and then use their political might and privileges to commit crimes." The clampdown is being carried out chiefly under Section 14(1) of the Gangsters Act, which allows attachment of illegal properties, in order to effectively curb gangsters, mafias and criminals and their associates, the officials said. A five-time MLA and a one-time Lok Sabha MP, Ahmad has 124 criminal cases against him. He has been named in cases of murder, abductions, illegal mining, extortion, intimidation and fraud, among others. The ex-MP is currently languishing in Sabarmati Jail of Ahemdabad in Gujarat.