Govt teachers told to attend school for admin work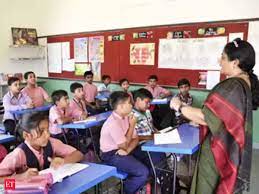 PRAYAGRAJ, April 6 (HS): In light of the recent spike in Covid-19 incidents, the UP government has ordered that all schools remain closed to students, but that teachers return to work to ensure that government schemes are implemented smoothly. Government teachers are required to attend school for administrative duties.
Teachers will carry out schemes such as midday meals, distribution of midday meals, and fund distribution from school, adhering to social distancing norms. "All of the teachers have been told to come to work as usual. This is being done to ensure that administration work is not disrupted and that students receive the benefits of all government schemes," said a senior education department official while speaking to HS.
This comes at a time when the government has ordered that schools remain closed until April 11th, up to and including Class 8. "In the meantime, teachers should complete student enrolment work and ensure that schemes such as midday meal delivery, teacher preparation, and Operation Kayakalp-related initiatives are completed on time," reads the order issued by state government, a copy of which is with HS.