Government of Karnataka unveils an innovative campaign to celebrate Rajyotsava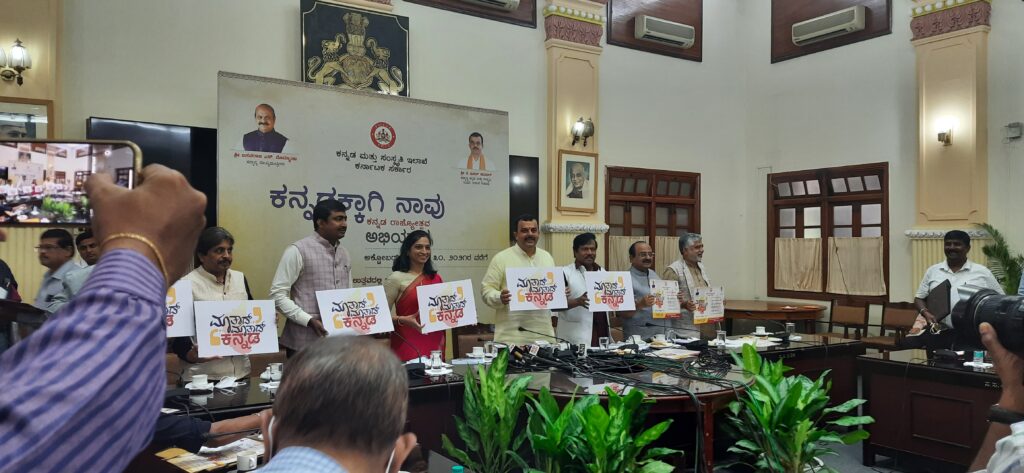 Bengaluru, 19 October (H.S): "With the objective of keeping the celebrations on the global platforms the Government of Karnataka is planning to integrate the local festivities with that of Overseas Kannada Organisations from across the globe. It's heartening that the rich culture and heritage presentstion of Kannada will be of great interest to the Millennials " said Mr Sunil Kumar Minister for Kannada Culture while addressing the media at Bengaluru.
The campaign kicked off with the unveiling of a Special logo Kannadakkagi Naavu at Vidhana Soudha on 19th October 2021
A brief introduction about the famous personalities of Karnataka and their contribution to the cause of Kannada and Karnataka would be one of the salient features of the campaign
Various academies of the Department are planning to perform roadshows in the form of Dance , Theatre and Music at different
Locations across the state .
Supplementing these activities is that one lakh people will lend voice to the Cult Classic Songs " Baarisu Kannada Dindimava" by Kuvempu , "Jogada Siri Belakinali " by Professor Nisar Ahmed and "Huttidare Kannada Naadalli ' by Legendary Actor Singer Dr Rajkumar.
The campaign also envisages optimal usage of Kannada in every sphere of life. Yet another feature of the campaign is Kannada Awareness Celebrations at border areas like Maharashtra, Kerala, Tamilnadu, Andhrapradesh and Goa.
A three day festival of Books, Desi Dress, Food, Fine arts, Music, Light Music and Cultural programs at Ravindra Kalakshtra at Bengaluru and we invite every citizen of the state to take part in the celebrations the minister concluded.