Gazette notification issued on jurisdication of Krishna and Godavari river management Boards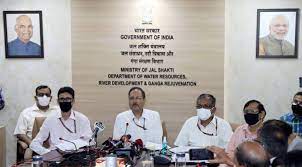 Amaravathi 18 July (H.S): In an unprecedented move, the Central government has taken a key decision to put an end to the frequent water disputes over the Godavari and Krishna River water projects. The Centre issued a gazette notification establishing the jurisdictions and finalizing the scope of the Krishna River Management Board (KRMB) as well as the Godavari River Management Board (GRMB) which was pending for the last seven years. This effectively puts the ball in centre court.This move was welcomed by the AP chief minister Mr JaganMohan Reddy.
The KRMB has directed the States of Telangana and Andhra Pradesh to deposit Rs 200 Crore each within 60 days in their bank accounts for the Krishna Board to function. With the release of the notification, joint projects in the Krishna and Godavari basins, their administration, regulation, maintenance, and operation of the projects in their respective river basins management, will now come under the purview of the boards.
The Central Security Forces will oversee the water management and safety of the projects. Gazette notification said the two states should suspend all work on projects not approved by the Centre by the time the notification is issued. The second Apex Council was directed to send the unlicenced projects to the apex council for approval within 6 months as decided at the meeting.
It clarified that those projects should be cancelled if permission is not obtained within six months and no water should be drawn through them. The Centre explained that the notification will come into effect from October 14 this year.
Telangana Chief minister K Chandrasekhar Rao, in a high level meet at the secretariat, has strongly opposed the board, however, Andhra Pradesh has always demanded that the projects be brought under the control of the board. The Nagarjuna Sagar project has been under the control of the state authorities as it is under the jurisdiction of Telangana. The board has been saying that control is needed as their ownership of the right canal that supplies water to the AP continues. Despite these contradictions, union Minister Gajendra Singh Shekhawat made it clear at the second Apex Council meeting that he had the power to finalize the scope of the boards.