Former Rajyasabha Member and Senior columnist Rajnath Singh Surya passed away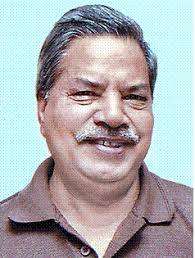 Lucknow, June 13 (HS) : Former Rajya Sabha member, senior journalist and columnist and director of Hindusthan Samachar Multilingual News Agency, Rajnath Singh 'Surya' passed away  at age of  82, he breathed his last in his residence in Gomtinagar's Patrakarpuram. He died of prolonged illness. He has donated his body for medical college a long time ago.
Chief Minister Yogi Adityanath has expressed deep condolences over his death. In his condolence message, the Chief Minister said that Rajnath Singh Surya ' has always given priority to public relations. Through their writing skill , they expressed the issues of public interest . Rajnath Singh 'Surya' has worked as a journalist in various newspapers. It is difficult to compensate for the loss of the journalism world due to his death.
Due to political thinking and ideological clarity, he got success in both journalism and politics.Because of his long experience in the field of Hindi journalism, his name was always taken with great respect.
Rajnath Singh surya started journalism from the Hindusthan Samachar Multilingual News Agency. He was the Chief of Lucknow Bureau. After this, for several years he took over the responsibility of the bureau chief of the 'Aaj' newspaper. In 1988, he became assistant editor of 'Dainik Jagran' and later also editor of 'Swatantra Bharat.
He also took over the responsibility of the Bhartiya Janta Party's state general secretary. She was also Rajya Sabha MP from 1996 to 2002. Rajnath Singh has two sons and a daughter . Rajnath Singh remained active in the journalism world through his writings till his death. He constantly continued to express his views through writing on contemporary issues. His 'Apna Bharat' book is very popular among readers today.Rajnath Singh's death  is a huge loss in journalism world.