Foreign Minister Jaishankar says Afghanistan has changed a lot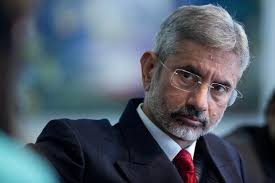 New Delhi, March 02 (HS): The peace deal was signed in Qatar's capital Doha on Saturday after years-long negotiations between the US and Afghanistan's militant group, the Taliban.
Meanwhile, Foreign Minister S.K. Jaishankar said that the real agreement has started now and it is happening as we thought. Now the Taliban will be involved in a democratic process or will create their own structure in the democratic process. The Foreign Minister was addressing a program of the Center for Research (CPR) in Delhi on Monday.
S Jaishankar said on Afghanistan Peace Deal, To my mind, the real negotiations will start now & then we have to see the assumptions that we had, how cohesive are various players & what are their demands. Does the Taliban join a democratic setup or a democratic setup adjusts to the Taliban?
The foreign minister said, 'I want to remind people that this is not Afghanistan of 2000-2001. Since then, many things have changed. Our message to the US and western countries is that it is a matter of global interest and it is an achievement that has been achieved in the last 18 years. He said that our campaign against terrorism worked and the whole world saw it, including the G-20.