Flood calamity in Eastern India including Bihar Assam leads to 97 deaths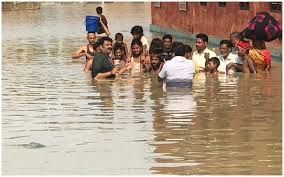 New Delhi , July 18(HS): Due to the continuous rains, the situation of floods in Bihar and Assam is getting worse day by day . The number of people died due to floods in both states has now increased to 94. Due to floods in Bihar, the highest number of deaths of of 67 people has been reported whereas in Assam 27 people have lost their lives.
People have been forced to leave their homes because of the flood. Due to floods in Bihar, 46.83 lakh people and 57 lakh people of Assam have been affected.
According to the Meteorological Department, water level of Brahmaputra and its tributaries with flood has increased significantly. Due to the increase in the water level of the river, rain water was accumulating in the lower areas. In most districts of the state including Guwahati rivers are flowing above the danger mark. A red alert has been issued in the entire state right now.
The Central Government has released an amount of Rs 251.55 crore for relief and rescue in Assam. Given the situation of deteriorating floods, Prime Minister Narendra Modi spoke to Assam's Chief Minister Sarbananda Sonowal and assured all possible help.
Araria district of Bihar is most affected by floods and after this the situation of Kishanganj, Purnia and Katihar districts has remained consistently bad.
57 lakh people of Assam have been affected by the flood, while 1.50 lakh people have been forced to leave their homes. On the orders of DSP Anant Lal Gyan, 409 prisoners have been temporarily shifted to Girls College. More than half of Assam's districts have been transformed into the islands. Chief Minister Sarbananda Sonowal said that 30 districts of the state have completely submerged.
Authorities said that a rhinoceros died in Kaziranga National Park while Brahmaputra and its tributaries flowing above the danger mark in many areas including Guwahati.