Embers of journo's death refuses to die down, widow seeks CBI probe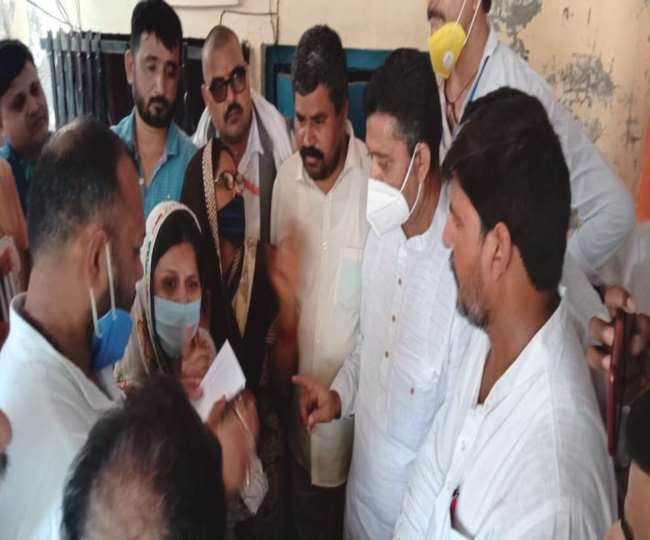 PRAYAGRAJ, June 15 (HS): Filing an FIR under Sections 302 (murder) and 506 (criminal intimidation) of the Indian Penal Code against unidentified persons at Pratapgarh Kotwali police station on the complaint of deceased journalist Sulabh Srivastava's wife, failed to pacify the fraying nerves. Initially, the death was being treated as an accident case and police tried to hush it up after some eyewitnesses allegedly told police that they saw journalist's motorcycle hitting a roadside pole and then ramming into a hand pump before he hit the ground. Incidentally, the scribe was found dead barely a day after he had written to ADG (Prayagraj) Prem Prakash citing threat to his life and demanding security.
The mystery shrouding his death has prompted strong reactions from the media fraternity and politicians. The issue has blown out of proportion after opposition entered the arena and left no stone unturned to corner the government over deteriorating law and order situation. Renuka, in her complaint said that circumstances suggest that her husband was murdered for running news about liquor mafia who tried to cover up the crime by making it appear like an accident. She has demanded CBI investigation into the case. His wife stated that the crime was dressed up to make it look like a road accident. Under pressure from various quarters, policemen sensed the gravity of the situation and registered a case of murder. On her demand, police has also deployed cops outside her residence.
Meanwhile, a Congress delegation led by its Kanpur MLA, Sahil Akhtar Ansari reached the residence of deceased journalist on Tuesday and handed over a cheque of Rs. 1 lakh given by Priyanka Gandhi. Earlier, Congress national general secretary Priyanka Gandhi had criticised the Uttar Pradesh government for Srivastava's death.
UPCC Spokesperson Kishore Varshney, who was the part of delegation, told HS, "We have already shot off a letter to President, PM and CM demanding CBI enquiry, Rs.1 crore compensation and government job for the deceased's journalist wife. A reporter has been murdered. Sad to see that despite democracy and freedom being a part of our ethos, we are unable to save lives of those who are working tirelessly towards unfolding the truth. I condemn this." Another Congress leader Javed Urfi said, "India is ranked 142 among 180 countries in Reporters Without Borders' 2021 report. The report also categorised India as "one of the world's most dangerous countries for journalists trying to do their job properly." The report had also noted that four Indian journalists were killed in connection with their work in 2020. This murder underlines the confidence with which the liquor mafia operates in the state. Authorities must take a portion of blame for the incident, especially since the deceased had earlier complained in writing to the police." Samajwadi Party leader Richa Singh also flayed the UP government and accused the police of failing to provide Srivastava with security despite his request. "This calls for a thorough probe and action against the guilty," she said.
Meanwhile, Additional Director General of Police (ADG) Prayagraj Zone Prem Prakash said the threat angle would be thoroughly probed and action initiated accordingly. Prem Prakash admitted that Sulabh had sent him his complaint on WhatsApp about a threat from the liquor mafia a few hours before the incident — at around 1:40 on Sunday, which he had forwarded to the SP for further action. He said Sulabh had met the SP thereafter and was satisfied with the assurance given to him by the officer.
Pratapgarh MP Sangam Lal Gupta has also written a letter to chief minister Yogi Adityanath urging him to offer compensation to the kin of the deceased and government job to his wife. He also sought a detailed probe into the incident.