Elephants increase in Corbett National Park and Rajaji Tiger Reserve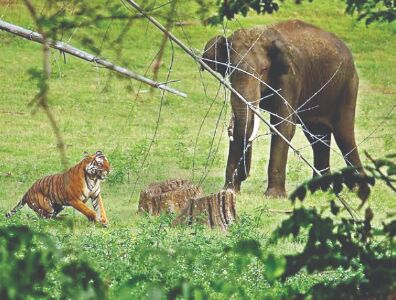 Dehradun, June 29, (HS) Uttrakhand's Corbett National Park and Rajaji Tiger Reserve has seen an expected increase in the number of elephants. As per this month's statistics the total number has reached 2,026.
In the 15th meeting of Uttarakhand State Wildlife Advisory Board, on Monday, Chief Minister Trivendra Singh Rawat was informed by the departmental officials that elephants were counted in Uttarakhand for three days from June 6 to June 8. In 2012 there were 1,559 and in 2017 there were 1,839 elephants.
From February 22 to 24, water reptiles were also counted. It was found that there are 451 crocodiles, 77 alligators and 194 otters.
It has been informed that from the year 2020 -2022 snow leopards will also be calculated as 23 percent of the state's geographical area has snow leopards.
It was informed at the meeting that a proposal has been received from the Wildlife Institute of India to study the reproductive capacity of tigers and wild elephants in Corbett Tiger Reserve and Rajaji Tiger Reserve. Similarly, site suitability report has been found for reintroduction of rhinoceros.
Also for the rationalisation of the boundary of Rajaji National Park, a committee consisting of District Collectors, Divisional Forest Officers and representatives of Wildlife Institute of India has been formed.