Education should address aspirations of the people: Governor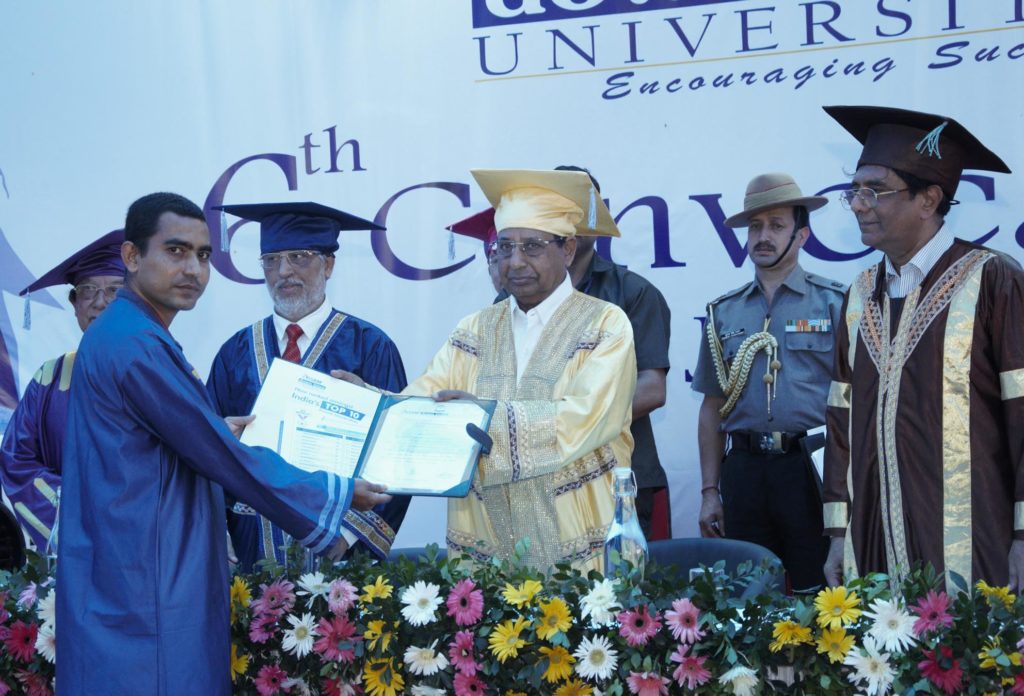 Guwahati, June 23 (HS): Assam Governor Prof. Jagdish Mukhi said that in the face of globalisation, the concept of education should be redefined with a special emphasis on addressing the needs and aspirations of the people. Addressing the sixth convocation of Assam Down Town University here Saturday, Prof. Mukhi emphasized that the quality of education delivered by the universities should reflect on establishment of critical linkages with the industries.
The Governor who is also the visitor of Assam Down Town University said that a university should take the responsibility as a part of its academic performance to establish more collaboration with internationally acclaimed institutions to exchange knowledge and design curriculum to ensure its (curriculum's) relevance with industries. He also said that Assam Down Town University should take a lead in this aspect by establishing more linkages with the industries so that it can take the lead in increasing the employability of the students.
In this context Prof. Mukhi also harped on an integrated system of education which is known as STEM, means Science, Technology, Engineering and Mathematics. He said this STEM system of education strives for educating the students in an interdisciplinary applied approach by integrating these disciplines into an interconnected learning pattern along with real life applications. This system if applied dedicatedly creates critical thinkers, problem solvers and next generation innovators, leading to better employability of the students.
Governor Prof. Mukhi also appealed to Assam Down Town University to play a pivotal role to shape this interdisciplinary applied approach through its academic modules and create a new dimension in the academic landscape of the region. He also expressed happiness that it is because of universities from private sectors, the GER (Gross Enrollment Ratio) has been increasing phenomenally which aims at attaining 30 per cent by 2020, to increase the employability aspect of the state.
He also hailed Assam Down Town University for its role in bringing frontier disciplines and newer perspectives in the academic landscape of the entire north east India. He also lauded the university for its role in promoting research and development to renew knowledge through enquiry-based teaching and learning.
The Governor also congratulated the 111 students on receiving degrees in the convocation and said that conferment of degrees on them has increased their responsibility to utilize their merits to the growth of the state, region and the nation and for the welfare of the humanity as a whole.
Chairman, All India Council for Technical Education Prof. Anil D. Sahasrabudhe while speaking on the occasion as the convocation speaker said that in today's technology driven world where technology keeps changing all the time, one should make learning as a life long process. He also said that platforms like Massive Open Online Course (MOOC) and internet are very popular which are being used over 10 million users including from 120 plus countries. He also emphasized on interdisciplinary research for example Physics and Philosophy, Psychology and Management, Engineering and Biology for the benefits of the humanity at large.
Congratulating the degree holders, Prof. Sahasrabudhe said that since their graduation studies are over, it is time for them to create their own lives and whole world is at their disposal to shape their future and be an asset to the society they belong to.
Earlier, Chancellor of the University Dr. N.N. Dutta and its Vice Chancellor Prof. Amarjyoti Choudhury also spoke on the occasion.
On the occasion D. Sc (Honories Causa) were conferred on Dr. Milind Vasant Kirtane and Shri Abhijit Barooah.