Dr. VK Singh declared BJP candidate for Prayagraj zila panchayat chairperson poll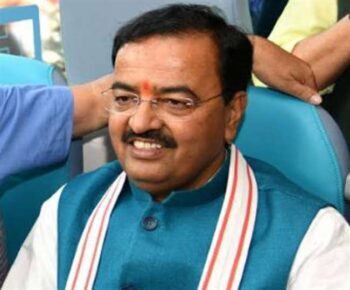 PRAYAGRAJ, JUNE 20 (HS): Dr. VK Singh has been nominated by the Bharatiya Janata Party for the position of District Panchayat Chairperson. In a programme held at a guest house in Civil Lines on Sunday, State Vice President Laxman Acharya introduced VK Singh as the party's candidate in the presence of Deputy Chief Minister Keshav Prasad Maurya and Cabinet Minister Siddharth Nath Singh. VK Singh was chosen as a member from ward number 13 of the Handiya Vidhan Sabha this time, according to State Vice President Laxman Acharya. He has been fielded as BJP party's candidate for District Panchayat president because of his clean image and loyalty to the party. He claimed that on the day of Ganga Dussehra, the party chose VK Singh as its candidate only after consulting with Prayagraj's local people's representatives in order to fulfil and bolster the rural "Swarajya" aspiration.
On this occasion, Deputy CM Keshav Prasad Maurya said that Dr VK Singh will achieve a historic victory in the election of District Panchayat President. Our party's performance in panchayat election was below our expectations. However, Akhilesh Yadav should now wait till July 3. They will find out on July 3 how powerful the BJP is in the state. The Deputy CM further claimed that there was horse-trading and even kidnapping of district panchayat members during the SP regime, but that this is not the case under the BJP. In the election for District Panchayat President, he predicted that the BJP will get the most votes in the state. On this occasion, MP Kesari Devi Patel, Dr. Rita Bahuguna Joshi, MLAs Neelam Karwaria, Harshvardhan Bajpai, Rajamani Kol, Praveen Patel, Dr. Ajay Bharti, Vikramajit Maurya, office bearers and workers were present.