Dr. Laxman BJP National President OBC Morcha calls upon BJP to further strengthen the party at organizational level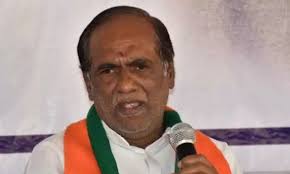 Telangana Hyderabad ;Janaury 19:(HS)Dr. Laxman  BJP OBC Morcha National President  today called upon the BJP to strengthen the Party at organizational level and work for the success of the Party in the upcoming elections.
Speaking at the Rama Janmabhoomi Nidhi collections meet held here today at Secunderabad organized by Shyam Sunder Goud  President Secunderabad Mahakali division, Dr. Laxman said that karyakartas from the grass root level to state leadership must work tirelessly to ensure BJPs MLC candidates success followed by Cantonment elections.
He called upon the BJP workers to inform people of the various development agenda taken up by the Narendra Modi Government for the welfare of the people. He said that the mindset of the people is now towards the BJP .
Stating that Cantonment elections BJP ward committee members should work hard and ensure the success of the Party at Cantonment level also He said that 232 ward committees have been formed .
About ram temple he said that people should come forward and donate for the Ram temple which should be build with the contribution of people's contribution. There are huge  donations pouring in from various people of the country even before the collection drive was launched officially he added and said that people can contribute as minimum as Rs. Ten for the construction of temple.