Crackdown on properties of Atiq & associates continues, another house & lodge razed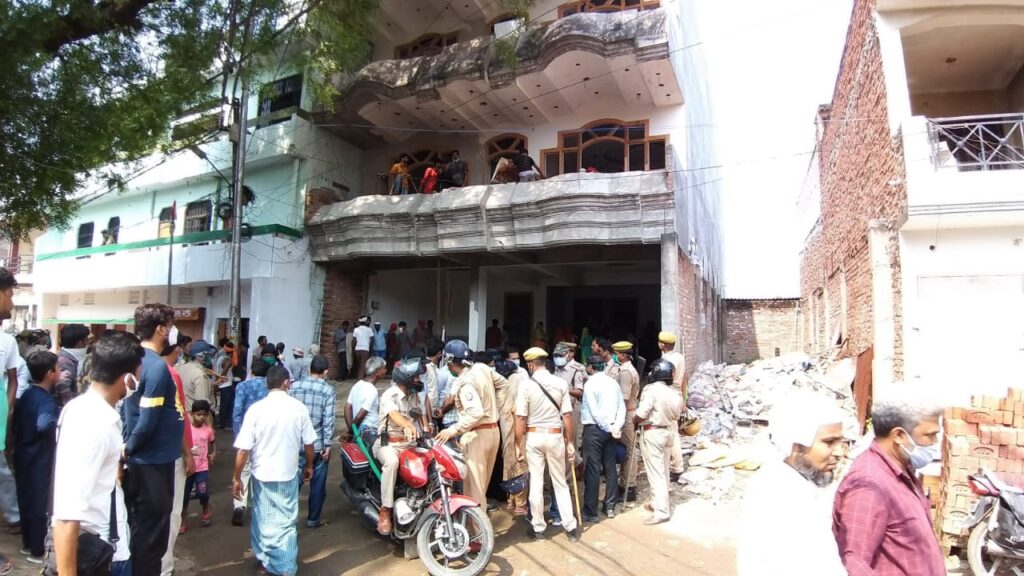 PRAYAGRAJ: 26 September (HS): Crackdown on the empire of gangster-turned-politician Atiq Ahmed and his associate is continuing unabated in a bid to break their 'financial backbone.' A day after demolishing the palatial residence of his close aides Rashid and Bhutto in Beli area under Cantt police station, district administration, police and Prayagraj Development Authority (ADA) arrived at the residence of Kammo and Jabir on Sunday. Both the brothers are former sharp shooters of ex-MP Atiq Ahmed but had fallout over some trivial issue three years ago. Later, they were falsely implicated in a murder case under previous Samajwadi Party regime. Kammo and Jabir are languishing in jail since then and 17 cases of murder and extortion are registered against them. On Sunday, their residence and illegally constructed lodge in Beli area under Cantt police station was demolished.
"We want to break the financial backbone of these criminals. Though they are in jail, they are running their empires from inside. Thus, all sources of ill-gotten wealth, as well as property that it has been channeled into, will be targeted," said a district administration official while speaking to HS.
BJP MLA from City North Harsh Bajpai said, "The UP government is trying to break the politician-criminal combine in a state where criminals use their clout to get elected and then use their political might and privileges to commit crimes. Samajwadi Party leader and former Allahabad University Student Union president who protested the demolition drive on Saturday and was arrested, however, see it as a diversionary tactic and hinting that the government was targeting a particular community.
The clampdown is being carried out chiefly under Section 14(1) of the Gangsters Act, which allows attachment of illegal properties, in order to effectively curb gangsters, mafias and criminals and their associates, the officials said. A five-time MLA and a one-time Lok Sabha MP, Ahmad has 124 criminal cases against him. He has been named in cases of murder, abductions, illegal mining, extortion, intimidation and fraud, among others. The crackdown against jailed mafia don, ex-MP Atiq Ahmad, who is languishing in Sabarmati jail of Ahmedabad in Gujarat and his associates by police, district administration and Prayagraj Development Authority (PDA), especially since August month, has resulted in loss of over Rs 400 crore for him and his henchmen.