COVID surge : Yogi Govt imposes complete Lockdown in UP on Sundays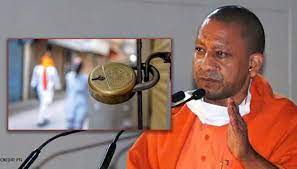 Lucknow,  16 April  (HS) :    In view of spike in CORONA cases in Uttar Pradesh the Yogi Government has decided to impose complete Lockdown in the state on Sundays. The Government has also decided that a fine of Rs 1000 will be imposed for not wearing masks.
Directions to this effect was issued by the Chief Minister Yogi Adityanath while he was reviewing the COVID-19 situation on Friday. The CM said that the restrictions of lockdown will come into effect on Saturdays at 8pm and remain in place till Monday morning at 7 o'clock.
CM Yogi during today's review meeting also said that the MLA funds will also be used in the COVID care fund with the permission of the MLAs.
 According to an official statement during the lockdown on Sundays all the government and non government offices, markets, restaurants, cinema halls  and shopping malls will be closed. Only essential services and activities will be allowed during the lockdown.
The statement added that the restrictions regarding the weekly closure will be effective in rural as well urban areas of the state.
Official are asked to ensure thorough sanitization of public places across the state during the lockdown.
Besides, the officials are asked to impose a fine of Rs 1000 from the person found not wearing a face mask. If someone is caught without mask, the amount of the fine will be Rs 10,000.
It may be mentioned here that the Covid-19 infection is spreading at a faster rate in UP. The state on Friday recorded 27426 fresh cases of Covid-19 in the last 24 hours. The state also recorded 103 fatalities. The highest 6598 positive cases were reported from Lucknow along with 35 fatalities.