COVID-19 : Night curfew in Lucknow, Varanasi & Kanpur from April 8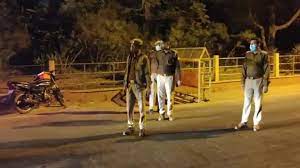 Lucknow,  07 April  (HS) :    In view of spike in CORONA cases in 13 districts of Uttar Pradesh the authorities late on Wednesday night ordered imposition of night curfew in Lucknow, Varanasi and Kanpur Nagar from April 8. The orders to this effect were released after the directives of the Chief Minister Yogi Adityanath.
The CM on Wednesday night held vedio conference with the district magistrates regarding steps to prevent the spread of COVID-19 infections. During the review meeting CM Yogi asked the district magistrates that they can take decisions of restrictions including night curfew and closing of educational institutions in order to prevent the spread of the CORONA virus.
Ealier, the Allahabad High Court on Tuesday, had asked the state government to examine the viability of imposing night curfew to check the social gatherings in the late evenings.
Following the directives of the Chief Minister the district magistrate of Lucknow Abhishek Prakash issued order regarding imposition of night curfew from Thursday. Later, the DMs of Varanasi and Kanpur Nagar also issued the order.
The night curfew in Lucknow will be effective till April 16 from 9 pm to 6 am, while the same in Kanpur Nagar will go on till April 30 from 10 pm to 6 am. In Varanasi too it has been imposed for one week from 9 pm.
 According to the DMs the essential services will be allowed during the night curfew. People coming and going to railway stations, bus stations and airports will also be allowed by showing their travel tickets.
As per the DMs order all the educational institutions will be closed in Lucknow, Varanasi and Kanpur Nagar but examinations and practical examinations will be conducted as per schedule.