Council celebrates its 71st Foundation Day in Dima Hasao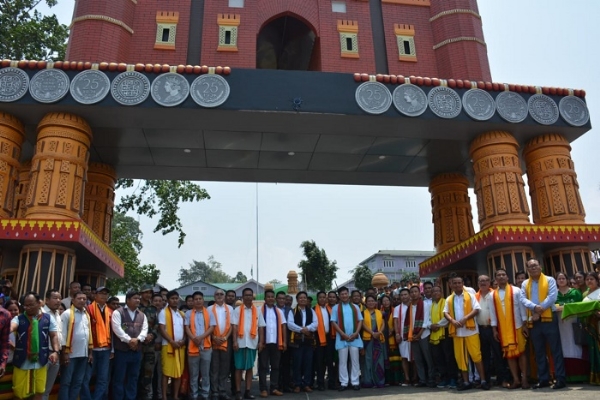 -Creation of approximately 3000 jobs in next three years
Dima Hasao, April 30 (HS): North Cachar Hills Autonomous Council (NCHAC) celebrated its 71st Foundation day at District Library Auditorium, Haflong with much pomp and gaiety friday. NCHAC CEM Debolal Gorlosa was the Chief Guest of the programme who was accompanied by MLA Nandita Gorlosa, NCHAC Chairperson Ranu Langthasa, Deputy Chairman Bimal Hojai all EMs, MACs and other dignitaries.
The foundation day programme began with series of inaugurations of new infrastructures completed recently. Among those inaugurated were five numbers of quarters for council Executive Members, new office building of the Transport department, Shongkho canteen in council premises and council main gate. Unveiling of the wall art was also done in presence of public and officers and staff of the council.
It is to be noted that the council main gate created by a group of young talented artists from different parts of Dima Hasao lead by Lakheshwar Bodo is a historical replica of heritage, tradition and ruins of Dimasa Kingdom of the past.
Principal Secretary of the normal sector Mukut Kemprai started the programme with a welcome speech followed by felicitation and also release of book, Transforming Dima Hasao published by the District Information & Public Relations Office about the council's achievement.
Speaking at length about their achievement during the public meeting, CEM Debolal Gorlosa congratulated and thanked the people of Dima Hasao for giving them opportunity to work for the people of this district and that his team of council EMs, MACs and officers are doing all that can generate revenue for council's development. Thanking the state government and the Chief Minister Dr. Himanta Biswa Sarma for their support in transforming Dima Hasao, Debolal Gorlosa said that their team of council is stressing on road connectivity to every nook and corner of the district. He said that only if the council revenue collection is done with outmost sincerity and diligence, the development steps can be taken up with much vigour. He informed that his government with the support of Assam Chief Minister is all focused to improve the education system in every level so that no student from poorer families is devoid of opportunities for studies.
With an increase in infrastructure such as Skill Development centre, Bamboo Industrial park, Longku project etc there will also be more opportunities for job creation and he confidently says there will as many as 3000 and more jobs available for the local youth.
MLA Nandita Gorlosa, Chairperson Ranu Langthasa and Samuel Changsan also spoke during the occasion. Recollecting and paying tribute to all those who have been pillars of the constitution of the council since its setting up in 1952, family members of the first CEM, Dy Chairman, Secretary of the then Dist council, member of Bordoloi sub committee for constitution for framing of the sixth schedule of the constitution of India.
The programme was largely attended by the gaonburas, villagers and supporters from various constituencies of Dima Hasao. Awards were given to the achievers such as best town committee, forest ranger, best school, gaonbura, disciplined village, farming village, officer, teacher and SHGs of the district.
Traditional dances were presented by different communities such as Dimasa, Jeme, Hrangkhol, Karbi, Kuki, Hmar, Biate and Jiantia. The official programme ended with a vote of thanks by the Council Principal Secretary Thai Tsho Daulagupu.
As scheduled there will also be traditional dance competition to be held at the council premises and other musical extravaganza at the Library Auditorium in the evening.