Coronavirus: Sri Lanka announces nationwide curfew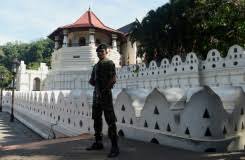 Colombo, Mar 20  (HS): The Sri Lankan government has announced a nationwide curfew due to the rapidly spreading coronavirus. The curfew will start from Friday 20 March and continue till 23 March. According to the report of the Colombo page, this curfew will be effected from 6 pm on Friday.
Earlier, the police imposed curfew in Puttalam, Chila, Negombo, Ja-Ila and Vatala areas so that it Covid-19 could be stopped from spreading among people.
So far, 59 cases of coronavirus have been reported in Sri Lanka. During the curfew, only essential services and public transport will be allowed into the curfew areas.
It is noteworthy that Sri Lankan National Election Commission has postponed the parliamentary elections on Thursday and announced that employees working in Government and private sector will work from home from 20 March to 27 March.