Corona scare among Punjab ministers, administration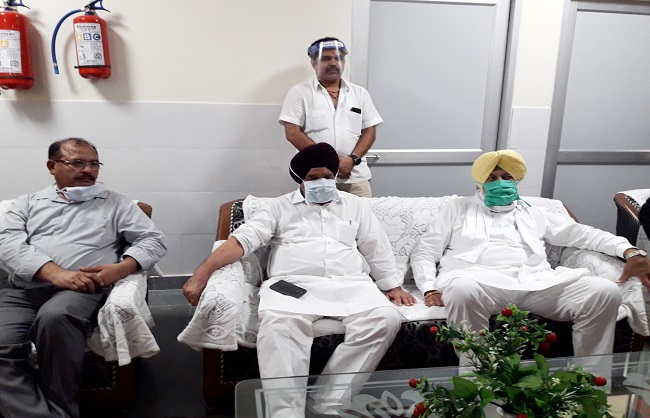 Gurdaspur (Punjab) , July 15 ( H S ) :  Just a day before Rural Development and Panchayati Raj Minister Tript Rajinder Singh Bajwa tested positive for novel corona virus, Minister Tript Bajwa along with Health minister Balbir Sidhu inaugurated a newly built "Ghacha Bacha Ward" at Civil Hospital, Fatehgarh Churian.
Senior Official in Punjab government said that there were more than 50 people including senior most administrative and police officers, besides doctors and Congress workers who attended the ceremony which lasted for half an hour. He also said that Senior Congress leaders of Gurdaspur District unit, Doctors, administrative and police officials had attended the inaugurated ceremony.
Three Senior Medical Officers from Fatehgarh Churian, Qadian and Batala from their respective jurisdictions seemed to be very slow to trace the contact history of Minister Bajwa. Many senior officials and leaders were present at the inauguration ceremony.
Interestingly, Nirankar Singh, SMO, Qadian  has found nearly 10 persons  including the cook, personal assistant, Security guards  and few other Congress workers. He said that few administrative and police officials were also in the contact list whose names were yet to be sent while Sanjeev Sethi, SMO, Fatehgarh Churian, was yet to start work on tracing contact history as he was on leave on Wednesday, citing a health issue.  He also said that he would start contact tracing in one or two days.
When questioned about violation of norms and guidelines, Mahamood Ishwaq, Deputy Commissioner, Gurdaspur   said that all in the ceremony ore masks but he was not sure as he did not attend the inauguration ceremony. He said, "It is quite difficult to trace people as most people are hesitant to take Corona test because of social stigma ."
Punjab Minister Tript Bajwa is Member of Legislative assembly from Fatehgarh Churian but he is quite active in Batala assembly segment too. Nearly a week ago, he inaugurated the road in Bhandari Gate, Batala in which  norms and guidelines like social distancing and wearing of masks were  violated  .