Congress slams TS Govt for lack of testing kits at CCMB, CDFD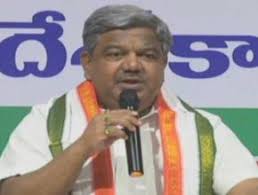 Telangana: Hyderabad, March 23 ( HS):Telangana Pradesh Congress Committee (TPCC) Treasurer Gudur Narayana Reddy demanded that the State Government should take immediate measures to improve facilities and infrastructure at all hospitals across the State to deal with the Coronavirus situation.
Narayana Reddy, in a media statement on Monday, advised Chief Minister K. Chandrashekhar Rao to adopt a serious and practical approach to deal with the situation than taking up symbolic measures. While steps like lockdown would help in breaking the chain in spread of Coronavirus, more practical measures were needed to fight the crisis, he said. 
For instance, he said that the Central Government has agreed to permit Centre for Cellular and Molecular Biology (CCMB) and Centre for DNA Fingerprinting and Diagnostics (CDFD) to conduct Covid-19 testing. But both the institutions were not provided any testing kits. "KCR must understand the difference between the fact and reality. While the fact is CCMB can perform 1,000 tests per day. But in reality, it doesn't have any kits and it cannot perform any test tomorrow. Therefore, CM KCR must understand that having an institution is different from having a well-equipped institution with trained manpower," he said.
He advised the Chief Minister to prepare a list of equipment, medicines and other things that would be required in the worst case scenario and check their availability in terms of hospitals, beds, masks, gloves, medicines, ventilators, oxygen, fully-equipped ambulances to shift patients, logistics for quarantine centres, etc.,
Narayana Reddy said that all the measures being taken by the State Government were only on ad-hoc basis and full of flaws. "So far, more than a dozen persons who were quarantined were caught by the general public at railway stations. There is absolutely no clarity on how many more such quarantined persons might have escaped from the vigilance. Therefore, the authorities should device a fool proof systems to identify and isolate the suspects, treat the patients, monitor those quarantined and ensure that healthy population does not come in contact with those affected," he said.