Congress leader Nasimuddin Siddiqui & BSP's Ram Achal Rajbhar sent to jail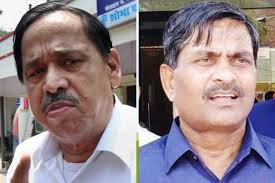 Lucknow, 19 January (HS) :    Congress leader Nasimuddin Siddiqui and Bahujan Samaj Party (BSP) leader Ram Achal Rajbhar were sent to the jail by the MP, MLA special court on Tuesday.
Earlier the court had declared them abscomders and had ordered the attachment of their properties. Both the leaders Nasimuddin Siddiqui and Ram Achal Rajbhar today appeared before the court seeking bail in a case, they are accused of using indecent language against the family members of BJP leader Daya Shankar Singh. The court rejected the bail application of Siddiqui and Rajbhar and sent them to jail under judicial custody.
In an FIR lodged with the Hazaratganj police station in Lucknow on July 22, 2016 BJP leader Daya Shankar Singh's mother had alleged that the BSP leaders including Nasimuddin Siddiqui and Ram Achal Rajbhar had used abusive and indecent words against her minor grand daughter and other family members.
It may be mentioned here that Nasimuddin Siddiqui at that time was national general secretary of BSP. Later he joined the Congress party.