Cong zeroing in on office space for Priyanka in Prayagraj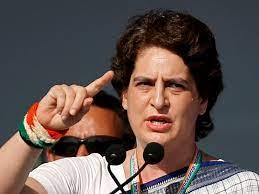 PRAYAGRAJ, September 5 (HS): Priyanka Gandhi, the Congress general secretary in charge of Uttar Pradesh, has opted to relocate her base to Prayagraj, which has raised eyebrows and left tongues wagging with political overtones. The local Congress unit is working hard to put up a large office for Priyanka Gandhi Vadra here that can accommodate thousands of people at a time. Prior to the 2022 UP Assembly elections, Congress leaders are selecting facilities or locations that can be used to support Gandhi scion's political requirements and purposes. Swaraj Bhawan, the Nehru family's ancestral residence, is one of the possible locations.
In a candid conversation with HS, ex-Rajya Sabha MP Pramod Tiwari, who accompanied Priyanka Gandhi along with his MLA daughter Aradhna Mishra during their last Prayagraj visit stated, "There was a zonal office here at Prayagraj during last elections and would be again in future election. She (Priyanka) is free to visit the city on a regular basis and stay at Swaraj Bhawan, where she can meet party workers and the general public, but she is unable to open an office there because the property is owned by a trust.?
?Priyankaji began her campaign informally by bathing in the Sangam on Mauni Amavasya, and she wants to make Prayagraj the major centre for the 2022 assembly elections,? said Javed Urfi, a spokeswoman for the party's minority cell. ?Everything has been finalised,? said Kishore Varshney, UPCC spokesperson. ?Priyanka Gandhi's active participation in the operation of the office, as well as the opening of an office here, would improve the spirit of party workers ahead of upcoming elections. Her presence would have a good impact on Nehruji's Phulpur Lok Sabha seat, which she may contest to reclaim her family legacy, as well as putting the Congress into the winning equation in Purvanchal,? he added.
In a free-wheeling chat with HS, another Congress leader, Irshad Ullah, claimed that various buildings have been identified as potential locations for her office. ?However, we are searching for a venue with a seating capacity of at least a thousand people and 10 to 12 rooms for outstation leaders to stay. The building will be chosen soon, and the office could open in Navratra,? he said.