Coal-laden goods train derailed in Etawah, amid high coal demand for electricity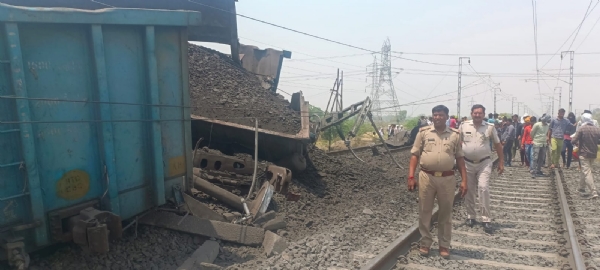 Etawah, 30 April (HS): A goods train, carrying coal, enroute Delhi from Kanpur derailed in Etawah, Uttar Pradesh on Saturday afternoon. More than 70 coaches of the goods train were derailed and damaged in the accident. Due to this, rail traffic on the Dedicated Front Corridor (DFC) railway track was disrupted. Railway and police officials reached the spot and started clearing the debris of the goods train from the railway track. There was no casualty of any kind in this accident.
Additional Superintendent of Police (Rural) Satpal Singh said that the coal-laden goods train was going from Kanpur to Delhi via Etawah. On reaching Bharthana, its coaches suddenly derailed on the DFC railway track. Some coaches derailed and overturned. The coal kept in it spread. Meanwhile, when the news of the derailment of the goods train was received, there was a stir in the entire department. Railway officials and employees reached the spot in a hurry. There was no casualty in this accident, but the railway track was disrupted. Railway officials are investigating the cause of the incident.
This accident happened at a time when news of rising demand of coal in Delhi is making headlines since past few days.