CM Yogi takes first dose of COVID-19 vaccine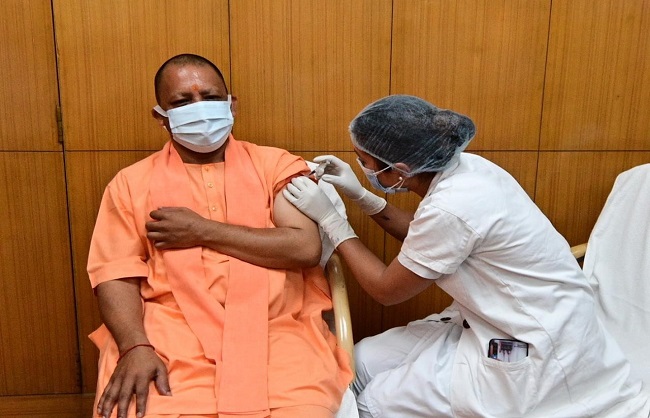 Lucknow,  05 April  (HS) :     Uttar Pradesh Chief Minister Yogi Adityanath received his first dose of COVID-19 vaccine at Civil Hospital in Lucknow here on Monday. He on the occasion appealed to the people to get inoculated. He asked the people to take all the precautions even after getting vaccinated.
CM Yogi today reached the Civil Hospital where the hospital nurse Sister Rashmi Jeet Singh administered the Indian vaccine to him. After receiving the dose of vaccine the Chief Minister stayed in the hospital for some time.
He on the occasion thanked the Prime Minister Narendra Modi and  the Central Health Ministry for making the CORONA vaccine available free of cost. The vaccine is completely safe, he said.
The 48 year old CM after receiving his first dose appealed to the people to take vaccine. He also asked the people to follow all the precautions and guidelines even after vaccination as the cases of COVID-19 are rising again in the country.
It may be mentioned here that the Government has opened the COVID-19 vaccination drive in the country for all the people who are above 45 years of age from April 01. The UP CM vaccinated today, four days after the drive.