CM Yogi asks officials for immediate disbursal of compensation to fire affected people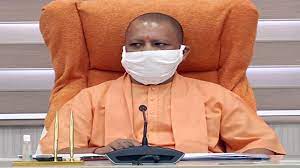 Lucknow,  06 April  (HS) :      Uttar Pradesh Chief Minister Yogi Adityanath has said that extra vigil should be taken keeping in mind the accidents of fire during the summer season. He has directed to distribute the compensation amount admissible to the affected people in 24 hours in case of a fire accident.
 The Chief Minister was on Tuesday reviewing the works of various departments at a high-level meeting at Lok Bhawan. He has given instructions to keep fire stations fully active and operational in all the districts. He said that in case of a fire accident, the affected people should be promptly provided with necessary ration and other necessary materials.
     Yogi Adityanath also said that wheat purchasing centers should be run at full capacity and it should be ensured that farmers do not have to wait long to sell their produce. There should be adequate availability of sacks at all wheat purchasing centers. Also, he added, there should be proper management of safe storage of purchased wheat while also regularly monitoring wheat procurement work.
      The Chief Minister also instructed to ensure proper arrangement of farmers' seating, drinking water and shade, etc. at wheat purchasing centers. He said that wheat procurement proceedings should be taken in full compliance with Covid Protocol. For this, it should be ensured that all people must use masks and adopt social distancing.
 The Chief Minister said that the arrangements for cow shelter sites of all the districts should be maintained in a better manner and that all necessary arrangements should be made for the protected bovine in cow shelters.
Presently, the fodder (hay) can be easily arranged for the protected bovine with a view to harvesting the wheat crop. He instructed to store a sufficient quantity of straw in cow-shelters.
Minister of State for Health Atul Garg, Chief Secretary R.K. Tiwari, Agriculture Production Commissioner Alok Sinha, Infrastructure and Industrial Development Commissioner Sanjeev Mittal, Additional Chief Secretary Home Avanish Kumar Awasthi, Director General of Police Hitesh C. Awasthi, Additional Chief Secretary Revenue Mrs. Renuka Kumar, Additional Chief Secretary MSME and Information Navneet Sehgal, Information Director Shishir and other senior officials were present in the review meet.