CESC introduces India's first Mobile App to help reduce electrical accidents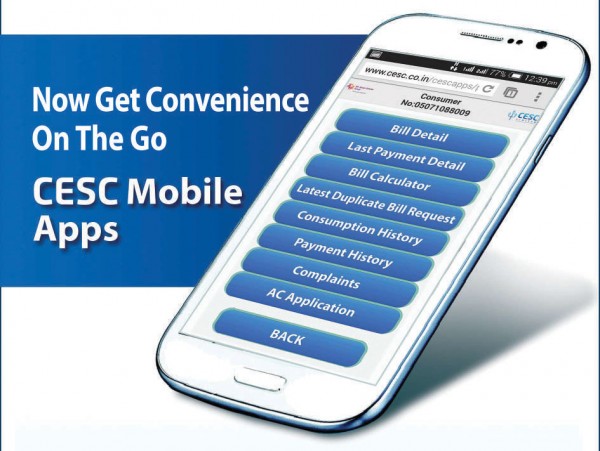 CESC introduces India's first Mobile App to help reduce electrical accidents
By Ankur Bhattacharya
Kolkata, June 12 (HS): CESC Limited, India's leading Power distributing company with a customer base of over 3.3 million in and around Kolkata and Howrah Municipal areas, has launched the country's first  mobile App to provide its customers the opportunity of getting an instant solution of all types of electrical problems in hassle free manners and through trained electricians.
Launching the new user friendly App at a function  here last night in presence of a large number of electricians and senior officials of CESC Limited, Mayor Firhad Hakim said that over 1,000 highly trained electrical professionals and technicians in and around the city had already registered their names and addresses in the country's first of its kind mobile App which would go a long way towards reducing the growing number of electrical short circuits and other power related accidents in many households and offices in and around Kolkata almost on daily basis.
Hailing the efforts of CESC, perhaps for the first time in the country, to come to the aid of common people and make them aware of the danger of electrical accidents, the Mayor in presence of state Power minister Sovandeb Chattopadhayay, urged the people to take full advantage of such a unique initiative.
Also speaking on the occasion the Power minister said that about 400 people were being affected by various kinds of electrical accidents in this City of Joy every year, and nearly half of them died because of such mishaps causing concern to everybody.
He also referred to the unique initiative taken by both the state government as well as CESC to illuminate every corner of the city and turn it as one of the best in the world by all international yardsticks.
According to Debashis Banerjee, Managing Director, Distribution, CESC Limited, the Kolkata headquartered fully integrated power utility company, the new App was created in such a way that it would be able to guide the affected consumers,who had already experienced electrical short circuits beyond their respective metre boxes or in any of the electrical installations of their house or in office, about how to take the first  and immediate preventive steps by himself or herself before the arrival of a trained electrician to handle the emergency situation.
The new App which has been divided in three stages,would first inform its users about the techniques of how to take the emergency measures before providing them ,in the second stage, the full address and phone numbers of several  'fully trained' and CESC registered electricians in nearby locations so that one of them could come and attend the faults at the earliest by using the GPS enabled Google map option, while in third stage necessary information were being provided about the charges of technicians and all other related expenses.
The new App was prepared in such an user friendly manner,that even a  housewife with not much knowledge about  mobile app could also register herself in the system  and use them as and when required, Banerjee said and hoped that it would open a new vista in preventing and reducing the number of electric related accidents in the city and its outskirts by making the general consumers fully aware of related danger.
'If successful we hope other power utility service providers elsewhere in the country would also introduce them for their own consumers', he said.
India had.recently seen alarming growth in the number of electrical accidents primarily because of negligence related to safe electrical practices and use of undersized and inferior quality wires in improper and weak installations, Banerjee said and regretted that.though the government had brought enough law and regulations to minimize such accidents, the presence of large number of dubious companies had been creating hurdles for their proper implementations.
Among others, Chief Executive Officer of International Copper Association of India was present in the occasion and  expressed his views on how to deal with the situation to prevent loss of innocent lives and property, worth hundreds of crores of rupees every year