Bengal Guv suggests deployment of Para military forces for proper lockdown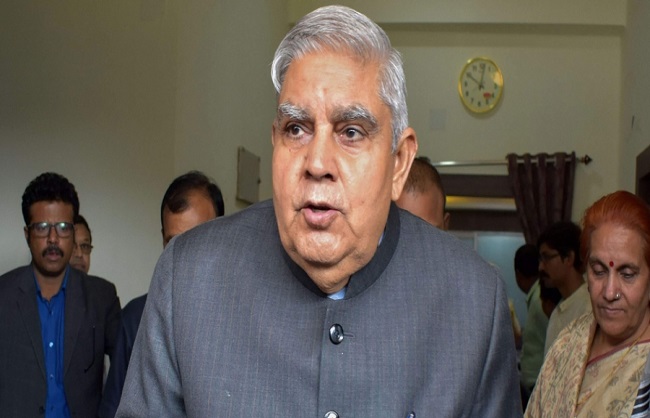 Kolkata,15 April(HS): In a major development in the midst of current pandemic situation, West Bengal Governor Jagdeep Dhankar today criticised the Mamata Banerjee government for not thoroughly implementing the 'lockdown protocol to ward off Corona virus' and suggested to'examine' the possibility of deployment of para military forces.
In a number of messages through his twitter handle today,the Governor who met a five member BJP  delegation in the state a couple of days ago and was informed about a number of loopholes in the proper implementation of the locked down in the state, allegedly because of lackadaisical attitudes of the state administration has made it clear that 'Lockdown protocol has to be thoroughly implemented to ward off Corona virus'.
Soon afterwards in another stern message the Governor blamed 'the police,administration and Mamata officials for failing to effect 100 per cent Social distancing or curbing the religious congregation showing them doors 'and felt that 'Lockdown must succeed-examine Central Para forces requisitioning'.
Though there was no immediate reaction from the state government about the Governor's tweets, according to senior political observers here that after the BJP delegation had brought to his notice about large scale violation of lockdown norms in different parts of the city as well as elsewhere in the state in front of the police who preferred to look otherways in most cases and did not take any action to strictly implement the rule,the Governor had decided to intervene on the basis of his constitutional authorities and power.
In addition,the union home ministry had also informed Governor Dhankar about the ground reality in terms of locked down situation in the state, forcing him him to start yet another war of words with the state government.
It may also be recalled that last week after the Governor in similar tweets informed that he was deliberately 'kept in dark' about the decisions taken by the Mamata Banerjee government on how to deal with the COVID-19 pandemic in the state following which Chief Secretary Rajiva Sinha went to Raj Bhavan and briefed him about the latest situation.