Bangladesh: 5 killed, 100 injured in train derailment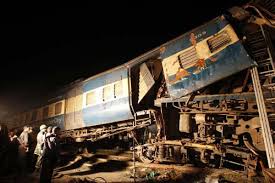 Dhaka, June 24 (HS): Five people died in the train accident in Bangladesh on late Sunday night, while many passengers are reported to be injured. It is being told that four coaches of an intercity train derailed on the Dhaka-Sylhet route in Kulaura. 100 passengers have been injured, 20 are in critical condition and taking treatment at Sylhet MAG Osmani Medical College.
Yardous Hasan, officer-in-charge of Kulaura Police Station, said several bogies of Dhaka-bound Upaban Express train from Sylhet veered off the tracks at around 11:40 pm after a culvert over the Barochhara Canal broke down, 200 yards off Baramchal Railway Station.Two of the bogies fell into the canal and one of them overturned.
However, assistant station master of the concerned railway station, Uday Kushal has not confirmed the death toll.