AP CM conducts aerial survey of Polavaram Project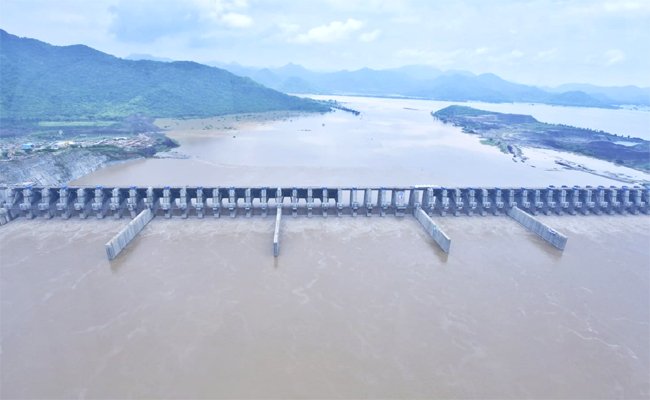 Amaravati, 20 July (H.S)Andhra Pradesh Chief Minister YS Jagan Mohan Reddy conducted an aerial survey of the Polavaram project and later held a high-level meeting here to review the ongoing works, after inspecting the spillway.
The officials explained to the Chief Minister the progress of the works in the last two years and the works to be undertaken in the future through a photo exhibition. The officials informed the Chief Minister that works related to the spillway are almost complete and 42 out of 48 gates were already fixed and the remaining gates will be fixed soon.
During the review of the project, the officials informed the Chief Minister that they have set the target to shift the displaced families from 48 of the 90 habitations by August. The Chief Minister said there should be quality in the construction of R&R (rehabilitation and resettlement) colonies. He said there are chances of negligence at some point while building R&R colonies at a large scale and directed the officials to be alert and ensure top quality in the works. He said to appoint a special officer to monitor quality in R&R works.
The Chief Minister said the state government needs to get reimbursement of Rs 2,300 crore from Central Government for Polavaram Project and yet the state government is spending its own funds for the project. He directed the officials to focus on getting Polavaram funds reimbursed soon.
Deputy Chief Minister Alla Krishna Srinivas, Water Resources Minister Dr Anil Kumar Yadav, Agriculture Minister Kurasala Kannababu, and legislators of the area and representatives of the construction company of the project were present.