Amid rising COVID-19 cases in UP Spl Secretary level officers to be sent in 12 districts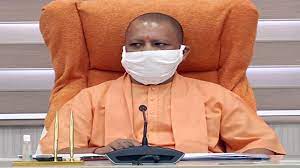 Lucknow, 06 April  (HS) :Uttar Pradesh Chief Minister Yogi Adityanath has stressed the need to take special precautions for effective control over corona infection. He said that there is no shortage of beds for Covid patients. Keeping in mind the present circumstances, it has become necessary that a maximum number of beds should be ensured in Covid Hospitals of all the districts. He has instructed to arrange additional beds as per the needs of the district by assessing the situation.
The Chief Minister was reviewing the unlock system at a high-level meeting at Lok Bhawan on Tuesday. He directed that treatment arrangements should be strengthened in Lucknow, Prayagraj, Kanpur Nagar, Varanasi, Agra, Meerut, Ghaziabad, Gorakhpur, Saharanpur, Bareilly, Jhansi and Gautam Budh Nagar.
Additional medical personnel including specialist doctors should be deployed in these districts as required. Continuous monitoring of the system of rescue and treatment from Covid-19 should be done by sending officers to the level of Special Secretary in these districts, he said while emphasizing better Covid management to prevent the spread of corona.
The Chief Minister has also instructed officials to carry out contact tracing work with full activeness. He said that more and more tests of Corona should be done. He directed to conduct the vaccination of Covid-19 in accordance with the guidelines of the Government of India and said that more people in the targeted age group should be motivated for Covid vaccination.
Yogi said that the system of Covid Help Desk should be managed smoothly. Symptomatic individuals should be identified using infrared thermometers and pulse oximeters. He directed that infrared thermometers and sanitizers should be provided in all government offices and private establishments.
The Chief Minister instructed the people to be constantly made aware of ways to keep away from Corona. He said that public address systems including various media should be widely used for this. Special attention should be paid, he underlined, to adherence to social distancing and mandatory use of masks.
Through effective policing, it should be ensured that there is no crowd gathering anywhere. For public and other programs, more than 200 people should not gather in the open and more than 100 people in the closed place.
The Chief Minister directed that the Integrated Command and Control Center should be actively operated and that Corona infected patients living in home isolation should be monitored regularly by monitoring their well-being. It should be ensured that monitoring committees in rural and urban areas are functioning effectively.
Prominent among those present in the review meeting included Minister of State for Health Atul Garg, Chief Secretary RK Tiwari, Agriculture Production Commissioner Alok Sinha, Infrastructure and Industrial Development Commissioner Sanjeev Mittal, Additional Chief Secretary Home Avanish Kumar Awasthi, Director General of Police Hitesh C. Awasthi, Additional Chief Secretary Revenue Mrs. Renuka Kumar, Additional Chief Secretary MSME and Information Navneet Sehgal, Additional Chief Secretary Agriculture Devesh Chaturvedi, Additional Chief Secretary Chief Minister SP Goyal, Additional Chief Secretary Health Amit Mohan Prasad, Principal Secretary Medical Education Alok Kumar, Principal Secretary Chief Minister and Information Sanjay Prasad, Information Director Mr. Shishir and other senior officers.