Ahead of India-US meet, US Prez Donald Trump demands withdrawal of tariff hike by India over US goods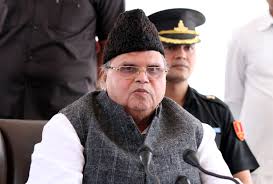 New Delhi, Jun. 27 (HS): Amid the  global trade wars,  tentative talks of truce have been doing the rounds with the United States of America (US) and China not indulging in slapping fresh trade tariffs  before the G-20 (Group of Twenty) summit in Osaka, Japan as reported  today by  media sources in both the countries.
 Ahead of the India-US meeting in Osaka, United States of America (US) President Donald Trump on Thursday raised the heat over trade wars demanding India's Prime Minister Narendra Modi to withdraw the hiking of tariffs by India over the Washington goods.
The US President though indicated raising this issue with PM Modi  in the ensuing meeting on the sidelines of  G-20 summit.
Earlier today, President Trump had tweeted  looking forward to the meeting with PM Modi on high tariffs imposed by India on American products.
However, Trump took a dig at the Modi government but said that for  years, India had put very high tariffs against the US adding that the tariffs were 'highly unacceptable' and must be withdrawn.
Although according to a report, Indian government sources denied the criticism raised by Trump at the Modi government  calling the trade tariffs by India over US markets were not higher as compared to many developing countries.
This criticism from Trump comes a day after the US Secretary of State, Mike Pompeo had earlier held bilateral talks with  India's External Affairs Minister S. Jaishankar and acknowledged that there were some issues relating to trade agreements between both the countries which needs to be resolved but assured that the Trump administration was committed to solving the differences among the nations.
Earlier, this year India had imposed retaliatory tariffs on 28 US products, less than two weeks after President Trump had ended the preferential trade treatment for  India over  the trade barriers.
Last year, India had announced trade tariffs in retaliation to US imposing high import duty on  steel and aluminium.
Earlier today, Prime Minister Narendra Modi reached Osaka meeting Japan PM Shinzo Abe. Trump and Modi are scheduled to meet on June 28 at the G-20 summit.