Aero India 2021 Set to take off…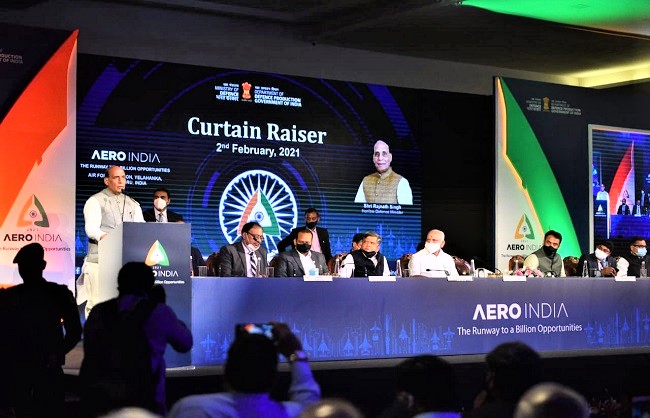 Bengaluru,02 February(HS): The premier International Airshow is a statement of the resilience, self-belief and a giant step in Self Reliance" said Union Defense Minister Rajnath Singh at the curtain raiser event for the 13th Edition of Aero India 2021 to be held at Yelahanka Airforce station from 3rd to 5th Feb 2021.
The first-ever hybrid Airshow event of such a massive scale is unheard of post-Covid 19 epidemics. The fact that Aero India 2021 has overshadowed the total number of participants in comparison to the last edition augers well for India. The pace set by Make in India has definitely snowballed into a powerful force through Atma Nirbhar Bharath, the Minister stressed.
Showcasing India as the ideal destination for Aerospace and Defence investment and manufacturing is one of the prime objectives of this show. While lauding the efforts of the state government is putting up all its might to host the event, the minister said.
" It is a testimonial to the leadership, skill sets, the innovative spirit of people of Karnataka, that the state has bagged the deal of manufacturing LCA at HAL Dedicated facility ". The project outlay of 45000 Cr is the biggest success story in Indian Civil Aviation, he added.
With the massive potential for harnessing the MSME sector, Streamlining the supply chain management, this initiative will position India in a new orbit. The overall objective of the government is to minimize defense imports and produce locally. It is bound to be an extension of Vocal for local theme championed by Indian Prime Minister Narendra Modi he said while addressing the media.
"We are proud that Karnataka's consolidation in terms of non-IT, BT, ITeS has grown exponentially. We are successful in attracting huge investment industrial investment. The infrastructure development to produce and supply new generation LCA is a jewel in the crown of Karnataka's Progression. Our efforts in implementation of the initiatives of Government of India is a validation of the spirit of our state " proclaimed BS Yeddyurappa, Hon'ble Chief Minister Government of Karnataka.
"While we are set to showcase the grand airshow it is important that we show utmost care in sticking to the Covid protocols. It is for each individual to be vigilant, cooperate and help in making the show spectacular not only in terms of Man machines but also exhibit exemplary discipline in following the Covid 19 protocols"
The organizers requested the visitors at the Air force station. Aero India 2021 real success lies in ensuring the safety of each visitor. A rarest of rare, aviation aerospace Enthusiasts could also participate, collaborate and experience the Show on line the organizers observed.
The fact that the President of India would be attending the valedictory on 5th Feb 2021 is a testimonial of how important is the Show said an official of Team Aero India.