70 lakh people affected by floods in North-East and Bihar, 44 dead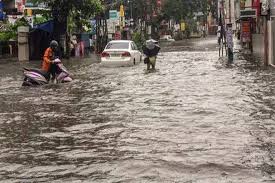 Patna ,July 16 (HS) : In the northeast and parts of Bihar, flood situation remains critical. On the other hand, the number of deaths due to the rains increased to 44 . Apart from this, about 70 lakh people are affected by natural disaster. The long wait for monsoon in the national capital ended on Monday, and Delhi received 28.8 mm rainfall which is highest in July this year. There is more rainfall in the next two-three days.
The death toll due to flood in Bihar has increased to 24. 25.66 lakh people have been affected due to floods in 12 districts of the state. Five more children have been drowned in two separate incidents in Eastern Champaran district. At the same time Chief Minister Nitish Kumar conducted an air-check of flood affected areas.
I
Meanwhile, about 43 lakh people from 30 out of 33 districts of Assam are affected by the flood. The flood has taken the lives of 15 people. Kaziranga National Park, Pobitora Wildlife Sanctuary and Manas National Park are also submerged. Prime Minister Narendra Modi spoke on the phone to Assam Chief Minister Sarbananda Sonawal and got information about flood situation in the state. Assam State Disaster Management Authority said that 42.87 lakh people of 4,157 villages in the state were affected by the flood. The water level of Brahmaputra has crossed the danger mark in the state.
In Mizoram, Meghalaya and Tripura,32 villages have been affected due to floods in Mizoram and one thousand people were shifted to the safer places.
An official said, Incessant rains across Meghalaya for the last seven days and rising waters of two rivers flooded the plains of West Garo Hills district, affecting at least 1.14 lakh people. Rising waters of the Brahmaputra and the Jinjiram rivers, both flowing from Assam, submerged the low-lying areas of the district, .