5.5 grams of heroine recovered, 2 narcotic smugglers arrested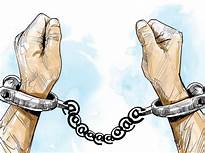 UDHAMPUR, March 28(HS):Continuing JKP's #WarOnDrugs offensive to contain the spread of narcotic drugs & psychotropic substances, Udhampur police recovered 5.5 grams of contraband substance Heroin (Chitta) from two narcotic smugglers at Udhampur.
Police patrolling  party, PS Udhampur, while patrolling at Birma Pull near stone Crusher, apprehended two suspected persons for checking who were sitting in a manner that raised suspicion.
During search carried out on their person, 5.5 grams  of Heroin (Chitta), 1 weighing machine & cash of worth Rs 10,000/- was recovered from their possession.
On enquiry they disclosed their identities as Dheeraj Sharma @ Pummy and Anil Sharma @ Chotu, both, sons of Mool Raj of Jib, Udhampur. They were arrested on the spot.
In this connection, a case FIR No. 111/2021 U/S 8/21/22/27-A/29 NDPS Act has been registered at PS Udhampur and further investigation is going on.