4,000 policemen deployed in Kolkata for Republic day celebrations.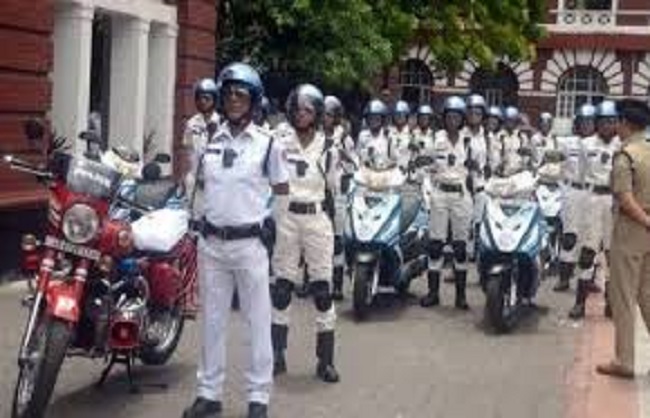 Kolkata, 25 January (HS): More than 4,000 police and other security personnel have been deployed all across the city and in all vulnerable areas to avoid untoward incident during the Republic Day celebrations tomorrow.
 Senior police officials at the state police headquarters at Lalbazar told Hindusthan Samachar that adequate steps had been taken not only to protect the life and property of the common people during the Republic day tomorrow but also to prevent any violence and protect all major government buildings and other institutions in view of the possible threat from several extremist and divisive groups every year.
'Though there is no specific inputs and information so far to the state police, we are leaving no stone unturned to ensure foolproof security for all', the sources reiterated.
Accordingly, apart from closing the entire Red Road area to vehicular traffic from  12 noon today till 2 p.m. tomorrow, the movement of traffic in several other roads in Central Kolkata would be controlled from this evening for the next 24 hours, they said adding that the number of security personnel in every station of Kolkata Metro Railway had been increased manifold along with those in Howrah, Sealdah and Kolkata stations and the Netaji Subhas Chandra Bose International Airport in Dum Dum.
Special police kiosks had also been deployed in front of the Reserve Bank of India and the head offices of all the three Nationalised banks in the city and some other important buildings, they said.
About the preparation of the Republic Day parade in Central Kolkata tomorrow from 8 a.m. where Governor Jagdeep Dhankar and Chief Minister Mamata Banerjee would be present along with several other dignitaries, the sources said the entire area had already been blanketed with enough security.
All nearby hotels, rest houses, and even major restaurants had been frisked to know the arrivals of their guests during the past two days.
In an urgent meeting at Lalbazar, city Police Commissioner Anujj Mishra reviewed the security apparatus in the city prior to the Republic day and had reportedly asked all Officers in Charge of each of the 42 police stations in the city to ensure total security and take immediate action against any suspicious movement of anybody. They had also been asked to keep a  close watch on every hotel and guest house in their respective areas.
About 200 people had already been taken into custody as a preventive step, the sources informed and hoped that tomorrow's Republic day celebrations in the city and elsewhere in the state would pass off peacefully.