37 hours rains , 55 flights divert, 52 cancellation; 32 deaths in 4 cities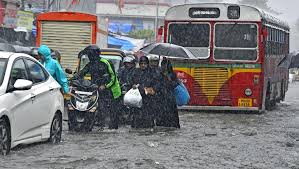 Mumbai, July. 2(HS): Due to the continuous rains, situation deteriorated in Maharashtra. The Indian Meteorological Department (IMD) has issued heavy rain warnings in Mumbai for the next forty eight hours.
According to the Meteorological Department, heavy rainfall is expected in Mumbai. Similar situation is also for Vidarbha and Marathwada. At the same time, after warnings of heavy rain, tourists have been advised not to go to hilly areas.
Maharashtra Chief Minister Devendra Fadnavis said, Pained to know about the loss of lives in Malad Wall Collapse incidence. My thoughts are with families who lost loved ones & prayers for speedy recovery of injured. Rupees 5 lakh will be given to the family of deceased, Fadnvis said.
The passengers are stuck at Chhatrapati Shivaji International Airport in Mumbai. Due to the bad weather, 54 aircraft have been diverted while 52 flights have been canceled.
The Fire Department and Health Department teams are running rescue operations in places like flood situation. One person was rescued and he has been admitted to DM Hospital. Other stranded people are being searched.
Central Railway Chief Public Relations Officer Sunil Udasi said that due to heavy rains in Mumbai, today a train has been canceled and seven trains have been stopped in bet.
In Mumbai, the Andheri Subway has been closed due to heavy rains due to heavy rains.Thane Municipal Transport has arranged additional buses for the passengers till the Mulund check naka.
Mumbai Police informed the airport manager that the movement of the aircraft is being carried out according to the weather and most of the flights are delayed. Passengers are facing problems due to water logging at the airport.
CM Devendra Fadnavis arrived at Shatabdi Hospital to know the condition of people who were injured by wall collapsing in Malad, Mumbai. Minister Yogesh Sagar were also present with him at that time. 18 people have died in this accident.
Indian Navy deployed several teams to rescue  the people affected by the rains and the stranded people in Kurla after a request from the BMC. With the help of local volunteers, NDRF, Fire Brigade, Navy teams, along with the help of local volunteers, has delivered nearly 1000 people to safer places.