3 buried alive, 11 missing in Uttarakhand cloudburst,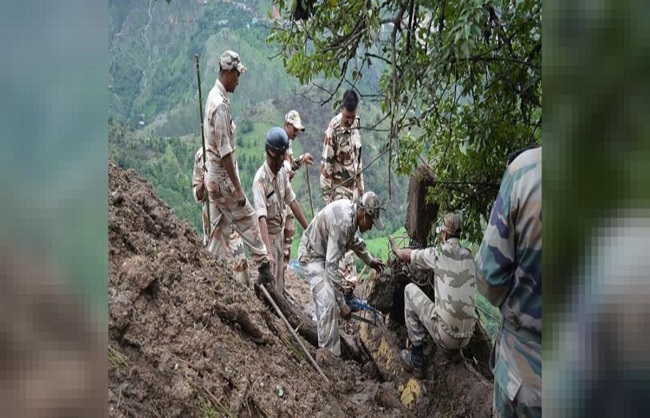 Dehradun, July 20 (HS) Hours after three members of a family were buried alive and 11 others are reported to be missing early Monday morning after their houses flattened in a cloudburst in a far-flung Gela village in Uttarakhand's Pithoragarh district, State Disaster Response Teams(SDRF) teams have stepped up their rescue and relief operation to locate those missing in the incident.
According to STF personnel, while the bodies of three who were instantly buried alive in a cloudburst incident, have been recovered, rescue operation is on to ascertain the whereabouts of 11 others missing ones. The three deceased were identified as Sher Singh, Govindo and Mamta.
 "As these 11 other missing ones are also suspected to be buried under the debris of house collapse, we have been using JCB and other machines to take out bodies from the debris," said a senior SDRF official at
Pithoragarh's Munsyari town. Since the cloudburst triggered by incessant torrential rains, had led to not only the collapse of just one house at Gela village, but also half a dozen others and the 11 missing persons could be the residents of these houses.
"Extricating bodies from the debris, is a time consuming exercise and we cannot say how much time it may take to complete it," added a senior Pithoragarh district official.
Pithoragarh District Magistrate (DM) Vijay Jogdandey said that apart from cloudburst, a massive landslide triggered by heavy rains, had also swept away three more houses at Tenga village. Jogdandey clarified that six more houses were also swept away in rain-related incidents at Munsyari and Bangapani village. He said a 5-year old boy was swept away on Sunday night in yet another landslide at Dhapa village near Munsyari in Pithoragarh district.
 "We have sent the SDRF and Medical teams to affected village to launch rescue and relief operation in the region. Besides, efforts are on to review the exact human and properties losses caused by disaster in the region", said DM Pithoragarh.