28 new Universities & 51 Govt Degree Colleges to be opened in UP soon : Dr Sharma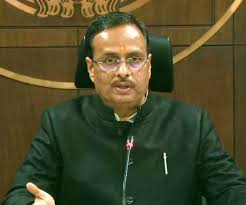 Lucknow, 13 January (HS) :     The Dy CM of Uttar Pradesh Dr Dinesh Sharma on Wednesday said that 28 new universities and 51 government degree colleges will be opened in the state very soon. He said that in order to boost the research work the government is establishing a number of research institutes and sodh peeths in the universities.
The Dy CM Dr Sharma said that the state government is establishing Prof Rajendra Singh Rajju Bhaiya Institute of Physical Science of Study and Research Centre at Jounpur University, Mahayogi Guru Gorakhnath Sodh Peeth in Gorakhpur University and Atal Behari Vajapayee Centre for Excellence in DAV College Kanpur. Besides, the Siddharth Vishwavidyalaya Kapilvastu is being developed as International Buddhist Centre for Excellence in Hinduism, Buddhism and Jainism, he said.
Dr Sharma said that the state of UP witnessed a massive change in the field of education in the last four years. The academic sessions of the universities and degree colleges were regularised and the government is focusing to boost the research work, he said adding that E-learning parks are being established in 120 government degree colleges.