15 soldiers killed in Boko Haram's suspected attack in Nigeria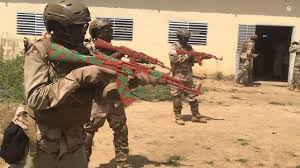 Abuja , June 19 (HS): 15 soldiers have been killed in an attack on a military base north-east by suspected militants of Boko Haram, an active militant organization in Nigeria. A military officer said ,  "Fifteen bodies of soldiers have  been recovered in a search and rescue operation,"  The officer said, many soldiers have not yet figured out and this figure can change.
It is worthwhile to mention here that the Islamic State in West Africa or the Islamic State's West Africa ."Group of the People of Sunnah for Preaching and Jihad" and commonly known as Boko Haram until March 2015 is a jihadist terrorist organization based in northeastern Nigeria, also active in Chad, Niger and northern Cameroon.
On 7 March 2015, Boko Haram's leader Abubakar Shekau pledged allegiance to the Islamic State of Iraq and the Levant, rebranding as Islamic State in West Africa. In September 2015, the Director of Information at the Defence Headquarters of Nigeria announced that all Boko Haram camps had been destroyed.