UP Budget : Rs 50 crore proposed for Covid vaccination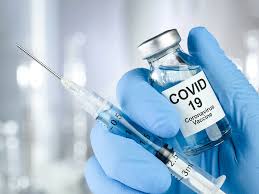 Lucknow, 22 February (HS) :       In continuation to its exemplary Covid  management in Uttar Pradesh, Yogi government's budget for 2021-22 , has put due emphasis on the improvement of health infrastructure in the state. Chief Minister Yogi Adityanath has consistently been vocal about taking the health services to the last person of the society.
In this endeavour of 'Health for All', the Yogi government has made several budget provisions which will not only strengthen the health infrastructure but also provide the latest technology for treatment.
After Covid control, the vaccination process has been launched with great success.  While the state is about to enetr third phase of vaccination, the government in its budget has made budgetary provision of Rs 50 crore for the vaccination scheme for the prevention of Covid-19.
Reckoning National Rural Health Mission Budget as an important tool to spread health facilities in rural parts of the state, a provision of Rs 5395 crore has been proposed for it. Among other budgetary provisions, Rs. 1300 crore is proposed for Ayushman Bharat Scheme, Rs. 142 crore for Ayushman Bharat – Chief Minister Jan Arogya Yojana. A budget of Rs 320 crore has been proposed for Pradhan Mantri Matrava Vandana Yojana while a provision of  Rs. 1073 crore is made to create diagnostic infrastructure for primary health care facilities.
In addition to this, a budgetary provision of Rs 425 is  proposed for Urban Health and Arogya Centres while Rs 54 crore for strengthening the state drug control system and a budget of Rs 50 crore for the construction of food and drug laboratories divisional offices in 12 divisions of the state. A budget provision of Rs 77 crore is proposed for establishment public health units at the block level.
Rs 1950 crore for establishing medical colleges in 13 districts
 Since the last budget of the Uttar Pradesh Government, a special thrust has been given on establishing medical colleges and universities apart from creating better health infrastructure and facilities in the state. The budgetary provisions assume significance in the wake of Covid-19 pandemic, which has brought the global economy to its knees.
In line with the Yogi Government's commitment to having a medical college in each district of the state, the maiden paperless budget presented in the state assembly a sum of Rs 1950 crore has been earmarked for completing new under construction medical colleges in 13 districts including Bijnor, Kushinagar, Sultanpur, Gonda,  Lakhimpur Kheri, Lalitpur, Chandauli, Bulandshahar, Sonbhadra, Pilibhit, Auraiya, Kanpur Dehat and Kaushambi.
 The budgetary provision is in addition to complete construction of nine medical colleges, which is in progress and where the MBBS course is expected to start in the academic year 2021-22 itself. Besides, Rs 48 crore has been allocated for the operation of medical colleges in the public private partnership (PPP) mode in 16 unserved districts of the state. A sum of  Rs 23 crore is earmarked  for National Health Digital Mission as well as Rs 960 crore for under construction medical colleges at Etah, Hardoi, Pratapgarh, Fatehpur, Siddharthnagar, Deoria, Ghazipur and Mirzapur.
Furthermore, the budget has proposed Rs 175 crore for establishing new medical colleges at Amethi and Balrampur and Rs 100 crore for  Atal Behari Vajpayee Medical University in Lucknow. There is a budgetary allocation of Rs 100 crore for providing medical facilities for incurable diseases. It also targets setting up Biosafety Level-4 Lab under Institute of Virology and Infectious Diseases in Lucknow.
The budget has also been proposed for setting up of Diabetic Retinopathy Treatment Centre in King George's Medical University (KGMU), Lucknow as well as at Government Medical Colleges in Prayagraj and Meerut.
The Government has also decided to establish Advanced Diabetes Centre at Sanjay Gandhi Postgraduate Institute of Medical Sciences (SGPGI), Lucknow. Besides, there is a proposal to strengthen two government medicine manufacturing units at Lucknow and Pilibhit to supply quality medicines to Ayurvedic and Unani hospitals in the state.