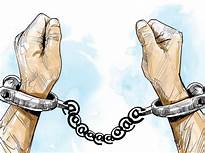 Telangana: Hyderabad: May 29 (HS) Hyderabad Police apprehended two accused Santosh Alluri Varma, Sarika Shinde Aniruddha, who are involved in Cheating case.The case was registered against M/s My Own Eco Energy Pvt. Ltd, Mumbai represented by Santosh Varma, Managing Director & others, they have collected huge amounts of Rs. 1.4 Crores from the complainant and other innocent public on the guise of providing dealerships for bio-diesel fuel stations across Telangana and Andhra Pradesh. That the accused persons Santhosh Varma Alluri, M.D.  Parag Kamath (V.P. Sales), Gunturi Srinivas (T.M.) and Sarika Shinde Aniruddha and others of My Eco Energy Pvt. Ltd. have conspired together to cheat the gullible people under the guise of allotting dealerships to sell the Bio-diesel in T.S. and A.P.  in response to news paper advertisement.
In the year of 2017, they established one branch office at Begumpet Hyderabad.  On seeing it, many people applied for the Dealership.  The accused persons assured that they will import crude diesel from Singapore and the same will be processed by blending at Gujrat (Pipav) and Kolhapur and supplied to the dealers.  The Company collected amounts of Rs. 09 to 15 Lakhs as deposit and taken Bank Guarantees for Rs.21 to 30 Lakhs from the victims.  After receipt of the amount, the company failed to provide related equipment and infrastructure and other facility and failed to supply fuel to the victims and they have not commenced any operations in this regard as per their promise. The money which are collected as deposits were transferred to Mumbai for their personal use. Later, said company has neither provided any Dealership nor returned their amount.  Further, the accused persons made the victims to construct the infrastructure for fuel station without supplying any material for fuel station as per their promise, for which the victims incurred huge amount to construct the fuel station and the accused persons have caused heavy lose to the victims.
The accused persons might have cheated nearly 150 victims across the country under the guise of allotting the Bio-diesel dealership.  It is also learnt that there are cases in other states also.  In the matter other accused Parag Ramachandra Kamat, Gunturi Srinivas have been arrested earlier further investigation is in process.