Five Rafale Jets reaches Ambala airforce station this afternoon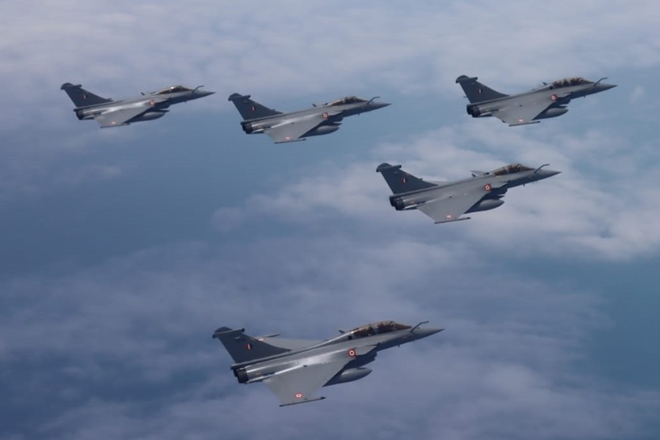 New Delhi, July 29 (HS): The batch of the first five Rafale combat aircraft arrived at Ambala airbase on Wednesday putting an end to Indian Air Force's 18-year-long wait. Air Chief Marshal RKS Bhadauria reached Ambala to receive the Rafale which is being inducted in the IAF as part of India`s biggest defence deal.
The five Rafale jets that took off from the Merignac airbase in French port city of Bordeaux on Monday, covered a distance of nearly 7,000 km to arrive in Ambala on Wednesday afternoon. The fighter jets were refueled more than once in their journey.
Defence Minister Rajnath Singh said, "The Birds have landed safely in Ambala. The touch down of Rafale combat aircrafts in India marks the beginning of a new era in our Military History. These multirole aircrafts will revolutionise the capabilities of the IAF."
"I congratulate the IAF on a professionally executed ferry. I am sure that 17 Squadron, the Golden Arrows, will continue to live upto their motto of "Udayam Ajasram". I am extremely happy that IAF's combat capability has got a timely boost," the defence minister further said.
Singh also thanked the French Government, Dassault Aviation and other French companies for ensuring the timely delivery of the aircraft and its weapons, despite the severe restrictions posed by Covid-19 pandemic.
Among the top features of the Rafale aircraft, it is capable of receiving mid-air refueling at an altitude of about 30 thousand feet. In the mid-air refueling process, the jets were fueled by French Air Force aircraft while flying at a speed of about 500 kilometers per hour.
The Rafale aircraft are expected to significantly boost the Indian Air Force's combat capabilities and would be soon posted at India-China border area to combat any type of incursion from Chinese side.
The combat aircraft is also fitted with an Integrated Self-Protection System 'Spectra', that acts as a defence shield and can jam the enemy's radar and alert the aircraft about the missile coming towards it.
It can go up to 3700 kilometers at a time, but with the aerial refueling in war-like situations, it can remain in the air for a longer period to foil the designs of enemies. It can fly continuously for 10 hours but has to be refueled for 6 times.
Rafale is the only fighter aircraft in the world that can carry a payload of one and a half times its weight. It is capable of attacking an enemy from a height of 55,000 feet, besides carrying 16 tons of bombs and missiles at a time. Capable of launching a nuclear attack, Rafale can fly at a speed of about 2130 kilometers per hour, i.e. twice the speed of sound.
Some other features that make it a special one includes a camera weighing about a thousand kilograms which is capable of taking pictures of a very minute thing, say a bird sitting on ground, from a height of thousands of feet.
Besides, with multi-directional Radar, Rafale can simultaneously target more than 40 targets in the 100 km range. It also has the capability to fire 2500 shells within a minute.
The Rafale is equipped with 6 laser-guided bombs along with three types of deadly missiles. In these laser-guided bombs, each bomb costs up to Rs 3 crore. These bombs were used to destroy the ISIS bases in Syria and Iraq.