A new cunning move of Zakir Naik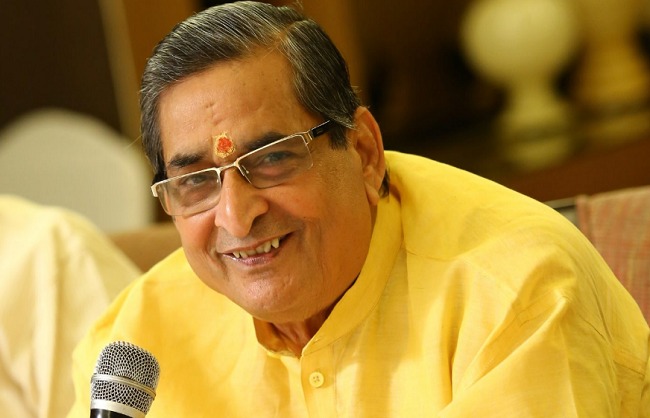 By RK Sinha
Zakir Naik, a self-proclaimed scholar of Islam is actually a hypocrite and mischievous person. He is incorrigible, restraining himself to improve his attitude and misbelief. Change is against his nature. Seizing every moment in India and vomiting controversial statements in order to divide the society, Zakir Naik has now stated from his Malaysian shelter that the Pakistani government should deny permission to construct a Hindu temple at Islamabad. If this is realized, it will be a non-Islamic act. He should be questioned, why is he actually worried about this and guiding the Pakistani government unnecessarily on this matter? But he is an expert in making the atmosphere poisonous for no reason. What else can be expected from a poisonous person mischievous guy? His blood and mind is filled with ideas that can increase the rift between Hindus and Muslims. It seems like his forefathers were not of Indian origin and might have dropped over Mumbai city directly from the sky.
Zakir Naik,has been residing in Malaysia for almost last four years after running away from India. He was given asylum by the then PM of Malaysia Mahathir Bin Mohamad. But he is out of power now. So called pseudo preacher Zakir Naik living in Putrajaya city(literally translates into a city inhabited by son of Jaya). The city is situated a little far away from Kualalumpur, capital of Malaysia. Everyday, he criticizes Indian PM Mr. Narendra Modi and Hindu Society, from Malaysian land. He even uttered a whole lot of rubbish for hindus settled in Malaysia. Once he questioned the faith of Hindus of Malaysia towards their PM Mahathir Mohamad and also stated that these Hindus are more dedicated towards PM Modi. These incidents are enough to understand the cheap mentality of Naik and how mean he is.
Actually, 20-25 lakhs people of Indian origin reside in Malaysia. They are mostly Tamil-Hindus. Some of them are Indian Muslims and Sikhs. This Indian diaspora are naturally connected with India emotionally, but they also wholeheartedly believe Malaysia to be their own country. These community of Indian Origins actively participate in politics there and are even members of Parliament of Malaysia. Some hold ministerial posts also. The irresponsible and malicious comment against these sections by Zakir Naik is completely unjust and can never be justified.
An another opinion about his statement on temple in Islamabad of Pakistan is related to his desire to please kathmullas(illiterate, imposter and foolish Islamic teachers) in order to secure a final shelter in Pakistan, if he is deported from Malaysia in near future which he is anticipating now.The terrorists like Hafiz sayeed and Maulana Masood Azhar are also likely to put pressure on Pakistan government in favour of Naik to provide him a refuge. That is why he is giving such statement against temple construction in Pakistan. Zakir naik is somewhat realised that he will not be able to reside in Malaysia for long period, as his patron Mr. Mahathir Mohamad is no longer in power. Mahathir Mohamad was pro Pakistan and a true enemy of India. He never desist the chance to criticise India on issues including Kashmir and other matters favourable to Pakistan. It was not the case prior to Narendra Modi government, but as the Congress regime ceased to rule, behavioural change was also observed in Naik and Malaysian PM Mahathir Mohammad. Anyways, Mahathir is in the last phase of his life as his age is more than ninety years. Secondly, minority Hindus of Malaysia are restless because of Zakir Naik presence in their country. They believe that Naik should be deported to India by the Malaysian government ASAP so that Indian government can prosecute him in Indian courts. Zakir is trying to evade this pressure. So he is now looking towards Pakistan.
Warrant has been issued against Zakir Naik in India. Always well dressed and suited Naik has been prosecuted on severe charges like inflaming communal spirit. Government of India has always demanded Malaysian government to extradite Zakir Naik citing these charges. But Malaysian government has been protecting cunning Naik until recently. But now as Mahathir Mohamad is not in power, Naik is said to be in trouble. Now in the current scenario, if he is expelled from Malaysia, Pakistan can be his only last shelter, so he is trying to please the kathmullas of Pakistan.
The protest and inhibition against the hindu temple in Pakistan is going on since beginning. The condition has now become worst, as warnings of violence is being given in spiritual meetings. Tarek fatah, a writer of Pakistani origin has tweeted video related to this. In this video, many maulanas(Islamic teachers) are threating to behead, if the temple will be constructed. A maulana is stating that, the person supporting the temple construction in Islamabad will be beheaded. Then the heads will be offered to temples or will be fed to dog. Not a single temple was constructed in the capital of Pakistan even after 70 years of its creation. This proves the fact that Pakistan is a communal country by its core.
The Zakir Naik and Pakistani Maulanas are speaking in a similar way on temple construction at Islamabad. It is noteworthy, when Narendra Modi visited Abu Dhabi,capital of United Arab Emirates (UAE) in the land worship program of first hindu temple, no objection was done by Naik. He not even uttered a single word against UAE government. Government of Abu Dhabi gave 20 thousand square meter of land to Hindus. Naik did not objected because he was knowing that UAE government will not even pay heed to his objection. There was zero possibility of his settlement there, as India-UAE has cordial relationship. So he is playing his game with carefulness and cunningness.
It seems like Naik is also thinking to spend his entire life now in Pakistan, following Dawood Ibrahim. He will promptly be sent to jail, if he lands in India. Strict punishment is definite. So, he has chosen the country which has always proved to be an almost safe place for anti- Indian people. Even the most wanted terrorist of America  after World Trade Centre attack, Osama-Bin-Laaden was also hiding there until the American troops identified and eliminated him. He was living  only a few kilometres away from Pakistani Military academy. This also proves that Pakistani Military and ISI fund these terrorists and their organisations, nurture them and use them against India. Zakir never left the opportunity to ruin the minds of innocent muslims and always gave hate speeches to force them to commit communal violence. He is english speaking Kathmulla, a most cunning, pseudo preacher.
Zakir Naik is a blot on multi cultured and pluralistic society of India. India respects martyred Abdul Hameed, Former President A. P. J. Abdul Kalam, actor Irfan Khan and other muslim personalities who are known for their good nationalist deeds. We have always treated them as pride of the country. They are not great personalities only because they are Muslims but they also have spent their lives in patriotism and public service. So, how can this society, accept this Zakir Naik, whose only aim is to create rift in society. Secularism is in the blood and soul of India and its people believe in "Sarvadharm-sambhaav"(Equal treatment to every religion). This is truly present in our culture. Idris Hasan Latif has also been a part of Indian Airforce. Dr. Kalam held the position of The President of India. But narcissist Naik always see evil in India with his communal spectacles.
(Writer is senior editor, columnist and Former MP)