Anti malaria awareness meet held in District Hospital Samba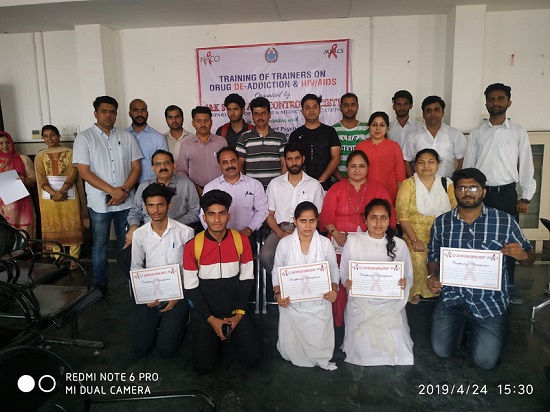 Anti malaria awareness meet held in District Hospital Samba
Jammu, June 07 (HS): This month is being observed as Anti Malaria Month prior to the onset of monsoon and transmission season to enhance the level of awareness and encourage community participation through mass media campaigns and inter-personal communication.
In this regard an awareness programme was organized by the health depatment at CHC Ramgarh under the supervision of Chief Medical Officer, Samba, Dr Rajinder Samyal.
The function was organized by Block Medical Officer, Dr Lakhwinder Singh. Besides Dr Suman Gupta, District Health Officer, Samba, Dy. Chief Medical Officer, Dr Kamini Gupta, and Malaria staff were also present.
Large number of people including hospital staff, general public, PRI members, and prominent citizens of the area were present at the function. On this occasion general awareness regarding the prevention of malaria its, signs, symptoms, spread and treatment was raised.
Speaking on the occasion, Chief Medical Officer, Samba, Dr Rajinder Samyal told that malaria is the most significant vector borne disease of public health importance.It is one of the major causes of loss of income and absenteeism in schools.
It is thus, inherently linked with socio-economic development. It is particularly debilitating in case of young children and pregnant women. Severe episodes of the disease could result in learning impairments or permanent neurological damages in children and maternal anaemia, perinatal mortality, low birth weight in case of pregnant women.
He further added that malaria is a life-threatening disease; that is preventable and curable, He also stressed upon precautionary measures to be taken during the upcoming malarial climate.
Block Medical Officer, Ramgarh, Dr Lakhwinder, also appealed the general public to not allow the water to remain collected in coolers, tyres, empty bottles, bottle caps, pits etc. as even small quantity of  water equivalent to bottle cap is enough for breeding of mosquitoes.
Dr Suman Gupta, District Health Officer, Samba told that  early case diagnosis and prompt treatment added with Behavior change communication is a good way to treat malaria and related diseases.
She also explained various IEC activities to be taken out for upcoming during Anti Malaria Month i.e June 2019. She further added that people can also get blood tested for malaria through Basic Health workers which reaches every village and town to collect malaria slides on weekly basis for early diagnosis of the disease.
Speaking on the occasion, Dr. Kamini Gupta, Dy. Chief Medical Officer, Samba told threw light on upon environment management and community awareness about detection of mosquito breeding places and their elimination.
She further stressed to prevent mosquito breeding in domestic and peri-domestic areas, or residential blocks and government/commercial buildings, construction sites. Use of larvivorous fish in the water bodies such as slow moving streams, lakes, ornamental ponds, etc. is also recommended. Swachh Bharat Mission promotes people to keep vicinity clean thereby elimination of breeding places for mosquitoes.
Besides this, IDCF activities were also performed across the distirct Samba. ORS packets were distributed in Anhganwadi Centres, Schools and ORS/ZINC corners made for public. Hand washing techniques has also been demonstrated by the health  to the public. Hard to reach areas are also being covered successfully during the fortnight.