Who spread the rumor forcing laborers to run away to their villages.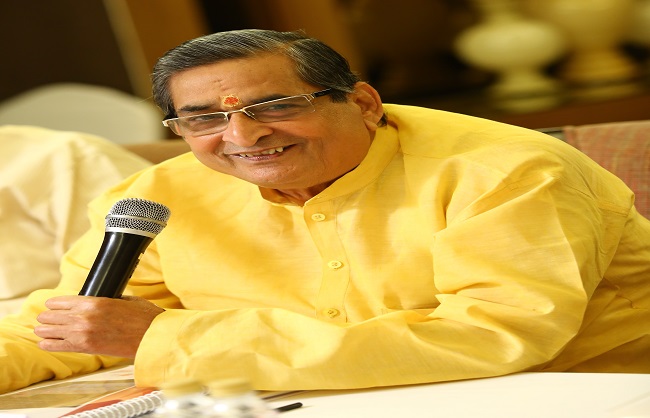 R K Sinha
When the whole world is trembling with the corona virus, another very odd situation has suddenly arisen in front of us – the migration of laborers across the country, from the national capital and other regions to their native homes, thus adversely affecting the battle being fought against Corona. What happened in twenty-four hours that millions of laborers and their families got so much horrified. How this rumor has spread among them that it would be safer, in every respect, if they move to their villages.
The most critical situation is of National Capital Delhi. Thousands of migrant laborers are going on foot, in procession, towards their villages via Dhaula Kuan and Anand Vihar. Why and how did this situation suddenly arise? However, for the time being, it would not be wise to say anything in this concern.
Prime Minister Narendra Modi announced a 21-day nationwide shutdown on March 24, following which all forms of transport including road, rail and air traffic were shut down. He had clearly mentioned that a three-week lockdown was the only resort to save the nation from the deadly corona virus. This clearly meant that any violation of it would jeopardize the exercise being done to prevent the spread of corona danger in the country. After his call, all the operations across the country came to a halt.
Home Minister Amit Shah also appealed to all the landlords not to charge one month's rent from the laborers simultaneously  asking the traders not to deduct any amount from the salaries of the workers not attending to their duties due to corona havoc. However, the omission from the government officials was that they did not work upon devising a plan so as to mitigate these landlords' apathy arising out of non charging of one month's rent from their tenants.
Small businessmen, not finding them capable of bearing such distribution of one month's free salary had to shut down their businesses and ask the laborers to go back to their respective villages. While some expressed their helplessness politely, others  used harsh words. This was the time when they needed to be supported somehow. The Finance Ministry and the Labor Ministry should have also thought immediately on the problem as to what would happen to these crores of poor contract laborers.
This does not mean that daily wage workers will not be taken care of by the government. The government has contemplated to help this class also. But these daily wage earners felt that there was nothing left for them in Delhi now. Then they started migrating to their villages located in various states, especially in Purvanchal regions. Due to lack of transportation, these people agreed to go back to their homes, hundreds of kilometers away, on foot. While the Delhi government was supposed to stop all these laborers from coming out of their houses, it has been learnt that its officials in the jeeps announced that all those who wanted to go to their respective homes, could avail the services of the buses standing at the borders.
When the people were expected to be in their houses, the situation was totally reverse. Owing to this misleading announcement, thousands of such people came out of their houses in panic and walked towards the Delhi-UP border. This was certainly an extremely irresponsible act and all those accountable need to be identified and punished severely.
What to do now?
Now no option having been left with the government, these laborers, in any case, should be stopped from travelling and kept in isolation in schools and colleges. Since the services of the railways are at a standstill,  they can be accommodated in the rail coaches also, where facilities like toilets, electric fans already exist. Food also, can be arranged for them right there. This is as per today's initiative of the Ministry of Railways, which is laudable. All this is in light of the situation that anybody of these, if infected, would spread infection in the village too.
The laborers are afraid of whom?
It seems that at some level, showing horror of death due to hunger, these migrant laborers have been instigated, to leave their present place and go to their villages during lockdown. These thousands of laborers, otherwise, could never have taken to the streets at a stretch. The fact remains that they live in slums and are hardly afraid of any disease. It may only be the ghost of hunger that might have shattered them and compelled them to arrive at such a decision.
At what level did the mess happen
Whatever may be the gossips but the government cannot leave these poor to their fate. But the unwanton conduct of Delhi Chief Minister Arvind Kejriwal is very much accountable in this regard who totally failed to deal with the matter.Of course, every possible effort is being made to provide food and drink for them. Then why the workers are not ready to stay in Delhi, is a matter of concern . They are insistent on going to their villages. This is the reason that thousands of them have come on the streets.
Now since there is a lock down situation in the whole country, from where will they get food and drink in the mid way? They all have small children with them. How will they go such a long way? Now there are reports that when the villagers reached their respective village on foot, the villagers did not allow them to enter. They were being kept for two-three weeks in the isolated shelters.
Whatever it may be, the pathetic condition of these poor migrants is visible to the entire nation, especially the affluents and rich Indians and those politicians who had been claiming for the last several decades that they had done enough to uplift the poor in the country.
Their average daily earnings end up in buying groceries for their family. The whole family has to earn to run the kitchen daily. In the case of illness, these poor have to bear even more. Besides, their rituals that to be performed in order to maintain the relations with the relatives living in the village is another burden on them. In such a situation, the lock-down of twenty-one days shook them completely.
It is obvious that the situation is still very bad, but to save it from getting worse, the government and society will have to come forward together. These migrant laborers should not feel that they are mere vote banks.
 (The writer is senior editor and columnist)