Soya Acquisition: Once outwitted Adani in deal, Patanjali future hangs in balance for negative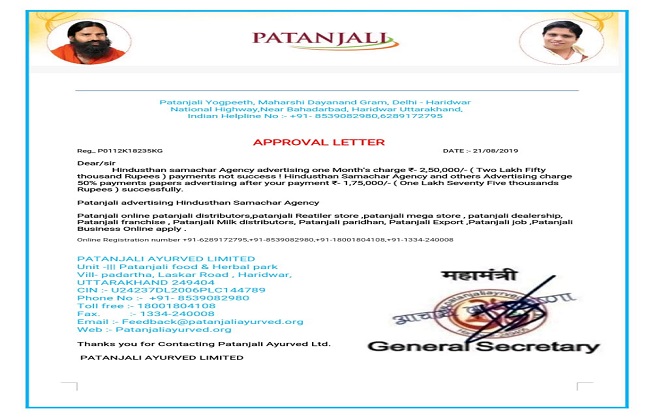 New Delhi, Dec.01 (HS): ''The brand 'Patanjali' is highly dependent on the personal image of Swami Ramdev and Acharya Balkrishna among common public. There is an ongoing Central Bureau of Investigation (CBI) case on promoter, Shri Acharya Balkrishna which was filed in 2012. Although, over the years, there has been no major findings or developments in the said case; however, the company remains exposed to the outcome of the legal proceedings and would be key for the credit profile of PAL going ahead''.
This is a comment passed by a rating agency, CARE that has recently downgraded the rating of Patanjali after it has decided to infuse a hefty sum of money worth Rs.4350 crores in acquisition of an economically sick company, Ruchi Soya Limited having its corporate office in Tulsyan Chamber, Nariman Point Mumabai.
Recently, this correspondent had visited the corporate office of Ruchi Soya and found there a fourth grade employee namely Sandeep who told that he was not aware of Patanjali acquisition plan of his company and several efforts of this correspondent to contact its corporate communication chief Rajdeep Barua fell flat and Sandeep told that he was not coming these days.
But, this story has another ramification also. While this correspondent was recently returning from Lucknow after doing investigation of story, he received a call from an unknown number and from another end a person identifying himself as Rakesh Sharma told, he is Vice-President of Patanjali. When this correspondent asked him about an advertisement given by him to a representative of Hindusthan Samachar and later it was claimed by Patanjali management as fake, he denied that he had given the advertisement. But when this correspondent insisted he told that he was not from Patanjali. But Hindusthan Samachar carried that advertisement for two months having worth Rs. 2.5 lacks. When this correspondent contacted Patanjali advertisement in charge, Romen Gupta he told to talk to legal officer, Amit Khareja but he also didn't give clear picture. But, claiming to cure sick persons through Yoga and Ayurved, Patanjali own financial health is not good.
After downgraded by CARE, company has received another jolt when State Bank of India has recently refused to sanction loan to the company for acquisition of Soya Industries Limited. On several occasions this correspondent tried to contact media in charge of company, S.K. Tijoriwala for the said fraud on his mobile but he did'nt pick the call. Meanwhile, an SBI (State Bank of India) source informs this correspondent that bank is not interested to grant loan to the company because all banks belonging to consortium should shoulder the risk.
It is worthwhile to mention here that once outwitted Adani Group for acquisition of Ruchi Soya, Patanjali own future hangs in balance, may be result of fraud done by its employees or some people who are at cross road against Patanjali. However, Hindusthan Samachar has copy of that advertisement order having Balkrishna's signature but Patanjali did not heeded to verify it. When this correspondent asked Mr. Khareja to file case against that person who has done that fraud, he simply refused.
Interestingly, in Ruchi Soya story Adani Wilmar, a joint venture of Adani and a Singapore firm Wilmar International had won the bid of Soya on Rs.5474 crore in 2018 but later Adani withdrew because of lengthy delay and in 2019 Patanjali jumped into the well. This correspondent tried to contact Patanjali for comments but it went in-vain.