Crude oil price declines, check the new rate list of petrol and diesel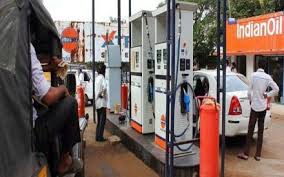 New Delhi,Nov 21(HS):On the fourth trading day of the week, the price of crude oil was seen again after the increase in the previous session. Meanwhile, prices of petrol and diesel remained stable for the second consecutive day. According to the website of Indian Oil, the price of petrol in Delhi, Kolkata, Mumbai and Chennai remains at Rs 74.20, Rs 76.89, Rs 79.86 and Rs 77.13 per liter respectively. Talking about the price of diesel, at the four metros petrol are being sold at Rs 65.84, Rs 68.25, Rs 69.06 and Rs 69.59 per liter respectively without any change.
In the last session, the price of crude oil in the international market saw a rise of more than two and a half percent. Brent crude's January contract on the international futures market Intercontinental Exchange, i.e. ICE, was trading at $ 62.17 a barrel, down 0.45 percent from the previous session. In the previous session, Brent had gained 2.53 per cent to close at $ 62.45 per barrel. American light crude was trading at $ 57.05 a barrel in the January contract at West Texas Intermediate, down 0.30 percent from the previous session.